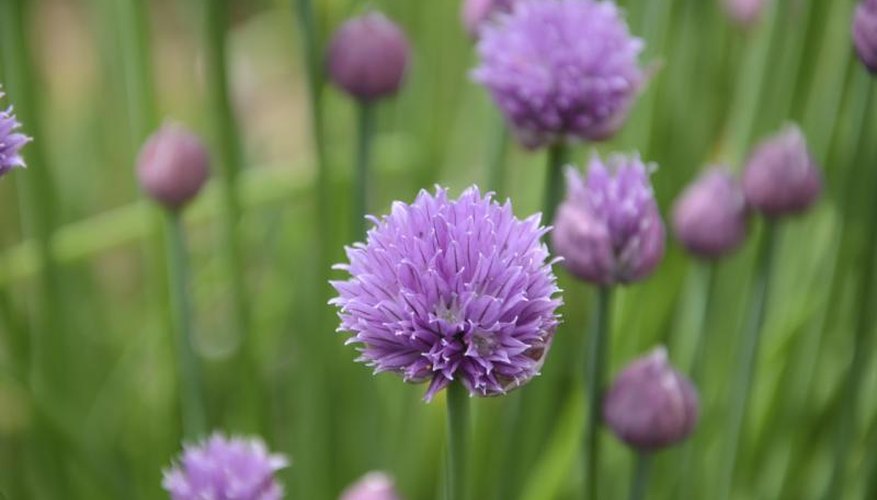 With an onion flavor in their hollow, pointed spears, garden chives (Allium schoenoprasum) grow from 8 inches to 2 feet tall in U.S. Department of Agriculture plant hardiness zones 3 through 9. In late spring or early summer, they send up spherical purple flower heads about 1 inch in diameter. Add the chopped spears to salads, omelets and mashed potatoes or use them as garnish. Among the easiest herbs to grow, chives can live for many years in the garden.
Choosing a Spot
Chives make attractive border plants for either herb or perennial garden beds. Growing most vigorously in full sun, they will tolerate partial shade, as long as they get at least four to six hours of sun per day. They prefer a well-draining sandy loam that has been enriched with compost and/or organic fertilizer.
To enrich your soil, spread 2 inches of compost over its surface. Add about 5 ounces of a 5-10-5 organic fertilizer for every 10 square feet of ground, and dig the amendments in to a depth of 8 inches.
Planting Chives
Transplant chive seedlings into the garden about four to six weeks before the last spring frost for your area. After dividing them into clusters of four to six bulbs each, plant those clusters 5 to 8 inches apart from each other, setting the bulbs as deep as their height or width -- whichever measurement is the largest. If you are setting out full-grown clumps of chives, space them 8 to 12 inches apart.
Water the plants well and mulch them with additional compost, pulled back from the bases of the spears. They need an average amount of rainfall or watering to flourish, about 1 inch per week, best applied as a deep watering once a week rather than more frequent, shallow ones.
Harvesting Chives
You can begin to snip pieces from the chive plants when they are at least 4 inches tall. After the plants bloom, cut them back to within 1 inch of the ground to encourage tender new growth. Stop harvesting chives about three weeks before the first fall frost.
Harvest the chives just before you use them for the best flavor. Rinse them, then pat them dry. To freeze them, spread the chopped spears on a cookie sheet and place it in the freezer overnight. In the morning, transfer the frozen chives into a zip-top bag, seal it and return that bag to the freezer.
Growing Chives Indoors
To grow chives indoors over winter, dig up a clump in fall and plant it in a 5-inch pot which has been filled with a mix of 2 parts potting soil and 1 part coarse sand or perlite. Set the pot on a sunny, south-facing windowsill or under grow lights which are timed to run for 14 to 16 hours per day, watering the soil whenever it feels dry 1 inch down.
As plants grow much more slowly during winter, use only one-fourth of the amount of plant food specified on the label when you feed the plants once every two weeks. For a 20-20-20 plant food, mix 1/4 teaspoon of the crystals into 1 gallon of water.