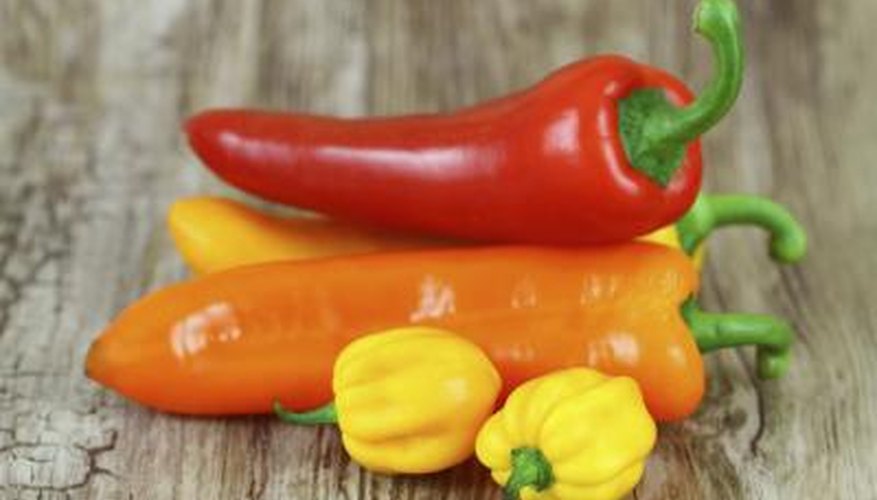 Pepper plants (Capsicum spp.) are simple to grow and produce fruits in a multitude of shapes, sizes, colors and flavors. Plants in the hot pepper group (Capsicum annuum) are hardy in U.S. Department of Agriculture plant hardiness zones 9 through 11 and can be grown in any zone as annuals. Pruning your prized pepper plants can help force their fruits to ripen faster, which is useful at the end of the growing season. In addition, pruning the plants can keep them alive through winter to produce homegrown food next year.
Pruning to Speed Ripening
Pruning your pepper plants six weeks before your location's average annual first frost date allows them to focus their strength on ripening their existing fruits. Cut back the branches that do not have fruits growing on them. Also remove all flowers on the plants to prevent them from putting energy into making new fruits. If you do not wish to keep your plants alive through winter and the fruits haven't ripened by the first freeze, you can uproot them and hang the whole plants upside down in a dry, well-ventilated location. Unripened fruits will ripen on uprooted pepper plants, according to the Pepper Joe's website.
Pruning to Overwinter
Cutting pepper plants back to just their stems, or trunks, increases their likelihood of surviving winter and providing another year of fruits. Cut the plants back severely enough to leave only 4 to 6 inches of their main stems. Remove small branches from the main stems, and cut back all the plants' foliage. This pruning technique prevents the plants from spending energy on growth and instead allows them to focus on surviving winter. Remove the trimmed plants from the ground or from their pots, shake excess soil from their root balls and plant them in pots containing fresh compost. Move your pruned, repotted pepper plants to an area safe from freezing temperatures, such as indoors near a window or inside a greenhouse.
Sanitizing Pruning Shears
Using disinfected pruning shears -- or a sharp pair of scissors you use as pruning shears -- is important to keep your plants healthy and to prevent plant disease transmission. Before disinfecting the blades, wash away all soil and other debris from the shears. Then soak the shears or scissors in a mixture of that is one-half rubbing alcohol and one-half water, or a mixture that is one part household bleach and three parts water, for about five minutes. After you rinse off the disinfectant and dry the shears or scissors, they're ready to use on your pepper plants. Disinfect the tool in this way before and after each pruning session.
Understanding Pruning Sealants
If you frequent garden shops, you've probably noticed pruning sealants and plant wound dressings on their shelves. Pruning sealant manufacturers claim the products prevent infections in plants and help the plants heal their cut surfaces. According to Washington State University, however, pruning sealants and wound dressings do not prevent infections or rot. Instead, they seal moisture in plants and can contribute to decay or sometimes serve as a food source for plant pathogens.