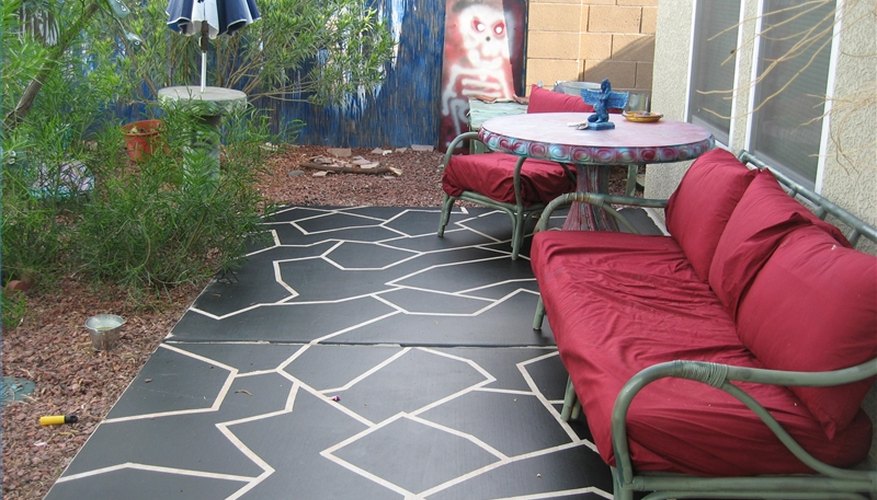 Your humdrum concrete patio can be transformed into an alluring masterpiece of color, contrast and art when you spruce it up with masonry or concrete paint. We're not talking about taking a ho-hum shade of gray and slathering it atop the concrete. No. We're talking about how to paint faux cobblestones on a patio. The contrasting color around the cobblestones will be the concrete's original hue, so have fun with virtually any color you can conjure up or use a variety of several. A few supplies, extended drying time and several steps are all you need to paint faux cobblestones on a patio.
Sweep and clean the area to be painted. Do a general sweep with an industrial broom and rinse the area with a hose. Scrape off any caked on, baked on or crudded up dirt, chewing gum and other debris with a razor blade. Use a floor cleaner and mop for any particularly grimy areas. Rinse clean once more until the water runs clear. Allow to dry thoroughly.
Apply the masonry sealer. Using a roller, apply a single, even coat of the masonry sealer to the patio. Make sure to get around the edges and in between cracks if you plan to apply the paint in between the cracks. Masonry sealers are also known as concrete sealers and insure the paint will stick. Otherwise it may peel right off concrete, especially concrete that is outdoors in the elements.
Let the sealer dry eight hours and sweep the patio again. After two hours you will be able to walk on it or have dogs run across it, but it will be somewhat gummy to the touch. After the drying time, sweep the patio once again to remove any leaves, dog paw prints and other stuff that may have accumulated on the patio and tried to stick to the sealer.
Use the painter masking tape to map out the outlines of your cobblestones. Take one strip of tape at a time, making an outline for your cobblestones. Painter masking tape, sold in the paint aisle of hardware and home stores, is more durable for painting and sticks better than regular masking tape. The blue variety has shown to be a quality tape that works well for this project. Keep applying strips of tape until your cobblestones are outlined across the entire patio. Use a razor blade to cut the edges of the tape so they leave clean lines. Take a clean roller and roll over all the tape to make sure it's securely taped to the concrete.
Paint the concrete. Apply a thin coat, all in one direction, across the entire patio. It's OK if some of the concrete still shows through in small areas, as you will be applying a second coat. Make sure both coats are evenly distributed with no big globs of paint that are prone to flake off.
Allow to dry for two hours and apply a second coat. Apply a second, thin coat of paint, this time criss-crossing in the opposite direction that you painted in initially.
Wait at least another two hours, more if the concrete is in direct sun or it's particularly hot out, then carefully pull off the tape. If the paint starts to come up with the tape, allow a longer drying period and touch up any pulled-off paint with a small brush.