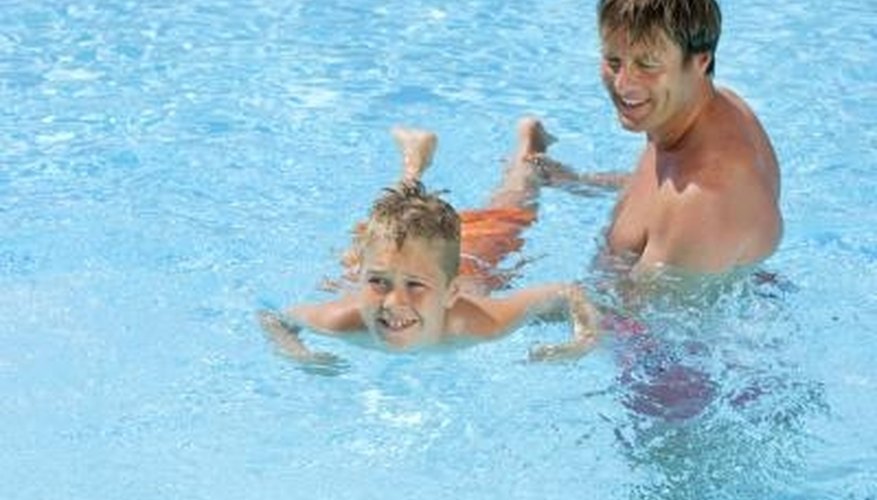 The lower cost and ease of installation for pop up and above ground pools makes these structures ideal for people who do not want to commit to an in-ground pool. Though less costly to maintain compared to in-ground pools, you still must maintain above ground swimming or floating pools. Making sure the pool remains safe and functional keeps its value longer, providing relief from summer's heat.
Inspect the pool for rips, tears or holes. Pay attention to small defects, such as a bubble in the outer cover, which could eventually turn in to larger issues. Drain and move the pool if the ground becomes unstable due to weather, natural occurrence such as a shift of earthquake, or a tree nearby causes excess debris to fill the pool.
Place a liner or tarp under the bottom of the pool to protect the pool from rocks in the ground. Know that as the top layers of soil and dirt erode away, due to time and rain, rocks may become exposed which could puncture the pool.
Skim leaves, bugs and debris out of the pool using a pool skimmer every day. Know that during breezy or windy days, you may need to skim the pool more than once. Removing debris helps prevent against algae developing as leaves and plants rot in the water.
Use a sponge to wipe down the inside walls of the pool at least once per week. This will remove oil, dirt and algae that may beginning to build up and adhere to the pool walls. If you do this routinely, you will not have to drain and refill the pool as often.
Test the water daily using a pool chemical testing kit to monitor bacteria and pH levels in the pool. Adjust the chemical composition of the pool water accordingly, following the manufacturers stated instructions for adding chemicals such as chlorine and Shock based on the size of your pool. Consider using salt water for your pool if you have a sensitivity to pool chemicals.
Cover the pool using a pool cover or tarp when the pool is not in use. Be sure to keep the pool tightly covered during long periods of time when no one will be around to properly skim debris out of the pool.
Post pool rules to help keep the pool clean and in good condition if you share with other people, especially kids. Do not allow people to swim in shoes, do not use hard toys in the pool and do not allow children or adults to dive or jump in to the pool.