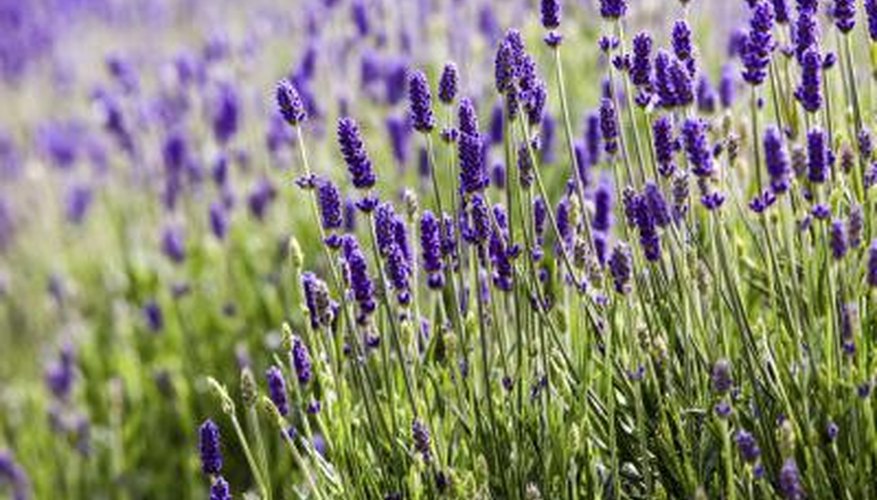 Lavender (Lavandula spp.) is a hardy perennial herb known for its masses of fragrant purple spiked flowers and gray leaves. A member of the mint family Lamiaceae, there are 39 species to choose from for your garden depending on your U.S. Department of Agriculture plant hardiness zone. The species differ in hardiness, size, flower and leaf color, texture and shape of flower head. A lavender garden could be composed of a single species or a combination of species for different bloom times and color.
Common Varieties
There are essentially three major groups of lavenders to choose from: non-English, English and lavindins. The non-English lavenders do well in warmer climates and bloom in early to mid-spring. Examples are Spanish lavender (Lavandula stoechas; USDA zones 8 through 10) and French lavender (Lavendula dentata; USDA zones 8 through 10). The English lavenders can withstand cooler temperatures, but are less heat tolerant. Hidcote Blue English lavender (Lavandula angustifolia "Hidcote Blue"; USDA zones 5 through 9) and Munstead lavender (Lavandula angustifolia "Munstead"; USDA zones 5 through 9) are popular examples. These typically bloom mid- to late spring. Lavindins (Lavandula x intermedia; USDA zones 5 through 9) are a cross between Lavandula angustifolia and Lanvandula latifolia (spike lavender; USDA zones 6 to 9). These bybrids typically are more heat and drought tolerant and bloom from late spring through mid-summer.
Site Selection and Preparation
Lavenders do best in gardens, raised beds or containers with eight hours of full sun. The soils should have good drainage such as sandy, sandy/loam or even gravelly soils. Clay soils would need to be heavily amended with equal amounts of garden soil, sand or pea gravel and compost. Soil pH should be 6.5 to 7.5; a yellowed plant indicates that the pH is out of balance and that can be corrected with the addition of more compost.
Planting and Care
The best time for planting lavenders is late spring after the last frost. However, they can be planted summer into fall as long as there is two months for root development prior to first frost. Water the plant in the nursery pot at least one hour prior to planting. Dig a hole just deep enough for the plant. Plant lavenders bare-rooted about 36 inches apart. Mulch with sand or gravel. If mulching with compost, keep it several inches from the main stem to prevent rot. It takes three years for a plant to mature. Removing dead blooms immediately may result in a second fall bloom. Prune plants back by a third each fall to ensure good structure and bloom the following spring. Plants will need water during dry periods, but let the soil dry out between watering to prevent root rot.
Harvesting and Drying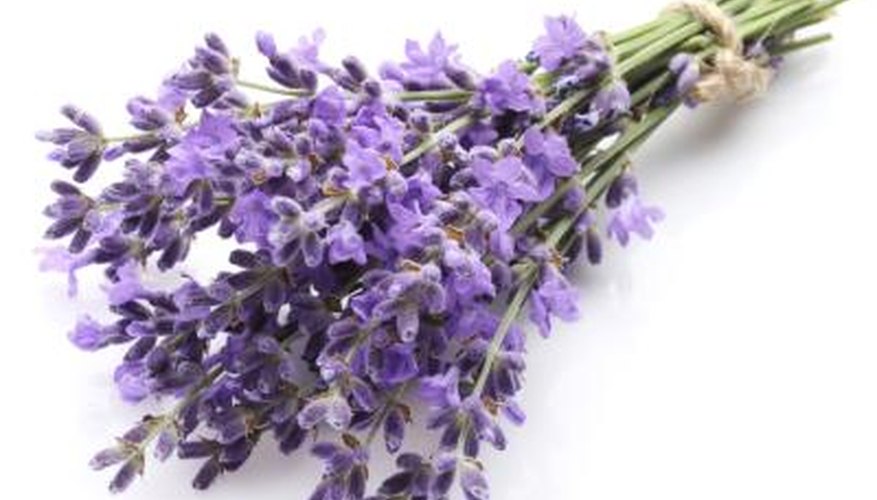 Lavender blooms are often cut and brought indoors for a fragrant floral arrangement. Simply arrange blooms in a small vase without water. Blooms can also be dried and used for cooking or fragrant sachets. Peak color and fragrance is reached when the bottom flowers are just opening. Cut the stems at the foliage in early morning on a dry day. Gather blooms together with string and hang them upside down in a dark hot space for 10 to 14 days to preserve color and fragrance.