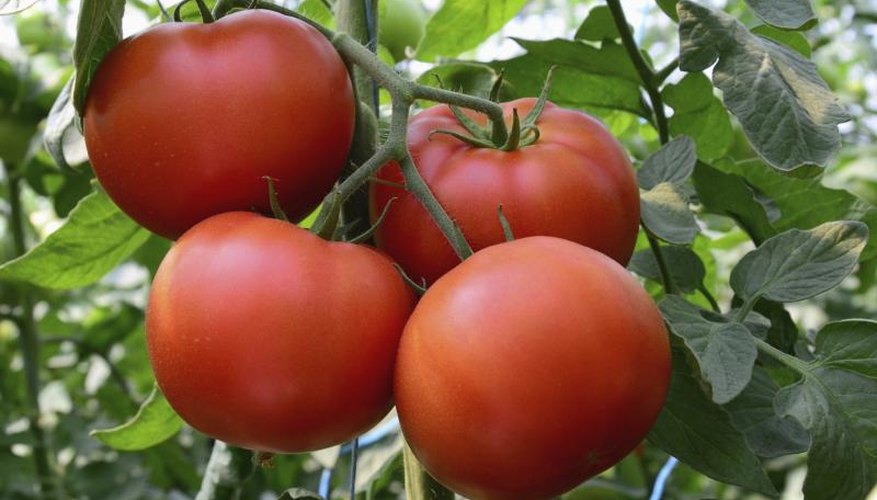 Picking ripe tomatoes (Solanum lycopersicum) from the vine is a home vegetable gardener's dream that requires specific growing conditions to come true. Grown as an annual throughout the United States, tomato plants are a self-pollinating tender perennial, native to the Andes of South America.
Growing Site Preparation
To bloom and set fruit, tomato plants must have adequate nutrients. Prepare your tomato bed by checking your soil pH level and amending the soil as necessary to achieve a pH of 6.5 to 7.0. To test your soil pH, home test kits are available through garden and home supply centers. Follow manufacturer's instructions. Alternative to testing your soil, work 3/4 cup of hydrated lime and 1/2 cup of 8-8-8 fertilizer into the planting hole for each tomato plant. Liming acid soil is important, as tomato plants require calcium, supplied by lime, for proper fruit development. In clay or sandy soils, also work in 2 to 3 inches of organic matter, such as compost or peat moss.
Planting Tomatoes
Tomato stems grow roots if they touch the ground. For this reason, remove the lower leaves of tomato transplants and place the plant in the ground, leaving only two sets of leaves above the ground. For proper blooming and fruit set, locate your tomato garden where it receives 6 to 10 hours of sunlight per day.
Water each plant with approximately 1 cup of starter fertilizer solution to stimulate root growth, recommends the University of Georgia Extension. Starter fertilizer, such as 10-34-0, is high in phosphorous -- with 34 representing the phosphorous content. Mix 1 ounce of this high-phosphorous fertilizer into 1 gallon of water until dissolved. Do not use more than 1 cup of starter solution per plant to avoid burning the roots. If high phosphorous fertilizer is not available, you can use 3 to 4 tablespoons of 8-8-8 fertilizer in a gallon of water.
Container-Grown Tomatoes
Tomatoes also grow well in containers, provided you use a pot that is at least 12 inches in diameter and has drainage holes. Place screen in the bottom of the pot to prevent soil from leaking out. Fill the container with a loose soil rich in organic matter, such as one part potting soil, one part sphagnum peat moss and one part perlite. Fertilize according to the instructions for in-ground tomatoes.
Fruit Set
Under optimal conditions, tomato plants begin to bloom within three to four weeks of planting and produce edible fruit within 70 to 90 days, depending upon the variety of tomato.
With proper fertilization and ample sunlight, tomato blossoms set fruit by self-pollination. Optimal temperatures for fruit set are nighttime temperatures between 50 and 70 degrees Fahrenheit. When daytime temperatures exceed 90 degrees F, fruit set can be hindered. Air disturbance is also necessary for pollen disbursement and fertilization. Wind and bumblebees help pollen fall onto the pistil and stigma. If the air is especially calm and no bees are around to do the job, shake the vines by hand to facilitate pollination.
Fruit Set Problems
Poor fruit set can be caused by application of too much nitrogen fertilizer, too low or too high nighttime temperatures, irregular watering or insects such as thrips. The most common cause of spindly, nonproductive plants is not enough sunlight. If blossoms develop, but do not set fruit, a hormone spray can increase fruit production.
Hormone Treatment
If you have planted your tomato plants in good soil, watered and fertilized according to instructions, but still have no flowers or fruits, you can use a spray containing the hormone, kinetin, to increase blossoming and fruit set. Kinetin, derived from marine algae, is found in ready-to-use products for home use. Spray newly opened flowers and surrounding leaves with this hormone product, which causes cell division and results in fruit set without pollination. Kinetin also encourages tomato plants to bloom, even when temperatures are not optimal. Repeat spray applications every one to two weeks, or when new flowers open. Products containing kinetin can be purchased from garden and home supply centers. Always follow manufacturer's instructions.