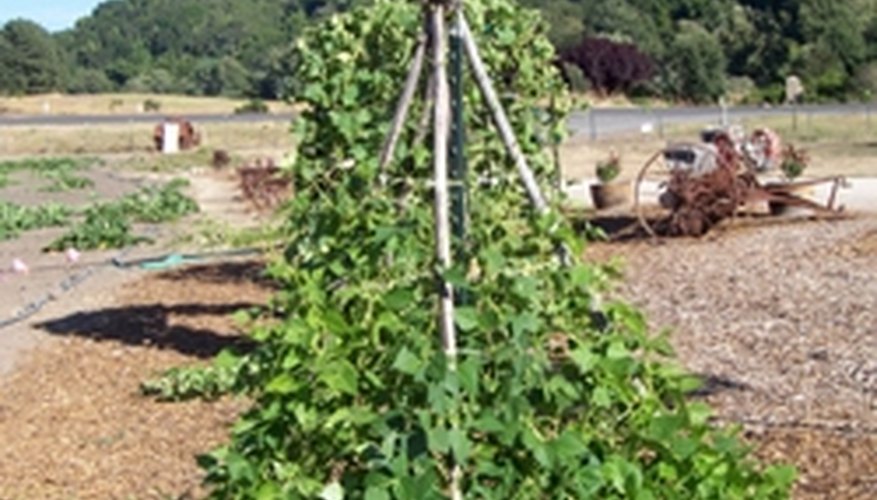 Growing beans is a fun and rewarding crop for the home gardener, but if you are growing pole beans, space quickly becomes an issue. One way to combat this problem is to build a tower that the beans can grow up on. It will quickly become an attractive and eye catching ornament in your garden . If you are severely space-challenged, then you can grow the beans in pots and still have them climb a tower, even on a roof top or balcony.
Decide what building material you want to work with. Bamboo is very easy to use, if you have a source growing nearby, but any material will work as long as it is stiff and strong.
Plan on your tower being about ten feet high with six inches being buried for stability. You will need eight to ten sections of eleven foot long thin poles.
Tie the sections together with a eighteen inch section of the twine or rope about eight inches from the top. Make it snug but not too tight as the poles will shift a little as you position the tower.
Place the group of poles in the middle of the area where you want your tower. Generally it will be about three to four feet in width. Work the poles out a few at a time until they are stretched out in a circle. Gently but firmly push them into the soil about six inches, adjusting the twine or rope as needed to straighten the tower. If you are working on a patio or rooftop, you will probably have to secure each of the poles deep in the planting pots.
Starting at the bottom, wrap the twine around the tower about eighteen inches from the ground, making a tight knot at each pole. Keep it straight all the way around. Repeat the process three or four more times, spacing the rows evenly.
Plant the beans at the outside edge of the tower's circle, about every two to three inches. Water them well and wait. They should sprout within four to five days and grow quickly.