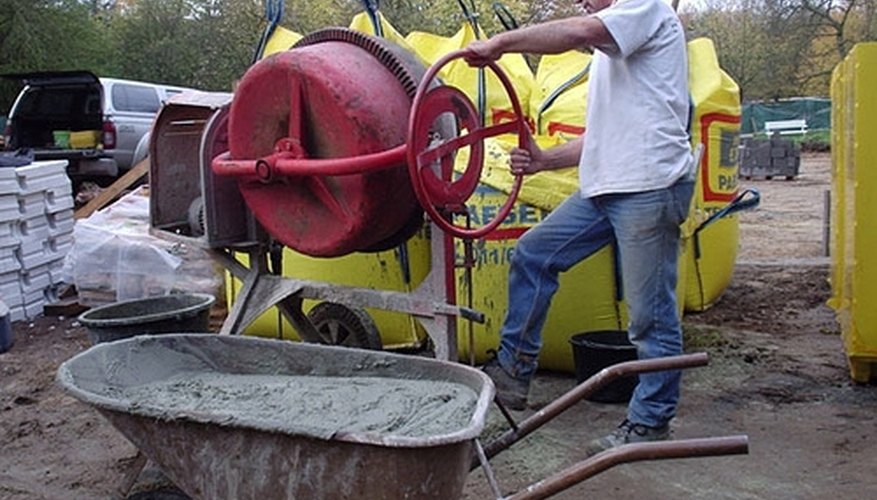 Molded concrete has become a larger part of many people's lives than what they realize. Whether it's a garden walkway, a lawn decoration or a smooth concrete counter top, most of us have something that was made with a concrete mold. This opens the door for a lot of great "do it yourself" projects. If you have that DIY mentality, then here is how to mix concrete for molds.
How to Mix Concrete for Molds
Decide if you need a concrete mixer. For small jobs you can get by with mixing your concrete in a wheelbarrow. For larger jobs, you will almost certainly want to rent a concrete mixer. This will make your job a lot easier, and will eliminate problems such as having concrete slosh over the side while you're mixing.
Think about how big your concrete mold is and determine how much concrete will be needed to fill the mold. One bag of concrete is usually enough for small jobs, but you will need multiple bags if you are working on a bigger project.
Pick a brand of concrete. The average bag of concrete is usually not good enough to be used in molds, because the bag usually contains an uneven mix. When you're dealing with concrete molds, you need to have concrete that can withstand 5000 pounds of pressure per square inch. Quikrete 5000 and PakMix Super 5000 are both popular choices for working with concrete molds.
Pour your dry concrete mix into your wheelbarrow or concrete mixer, whichever one you chose above. Add in some water and begin mixing. If you are using a wheelbarrow you will need to use your shovel or hand trowel to mix the concrete by hand.
Check the consistency of the concrete you have mixed. Scoop up and hand full and pour it from hand to hand. Ideally, the concrete that you mix for your mold should have a consistency similar to oatmeal. If it is thick or clumpy, you will need to add more water and continue mixing the concrete. If it is too thin and watery, then add more concrete mix.
Pour the concrete into your mold and allow it to dry for 24 hours before removing the mold.