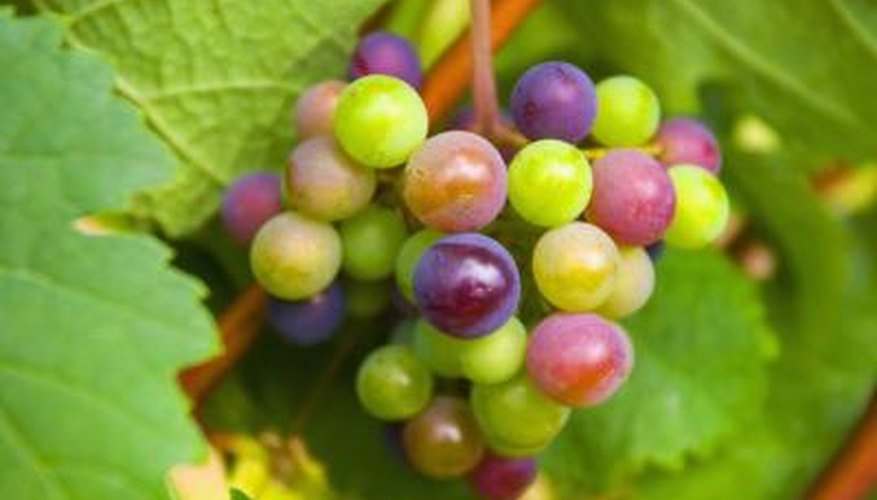 Grapes (Vitis spp.) are easy to grow and, once established, produce fruit for 30 years or longer. Grapes are hardy in U.S. Department of Agriculture plant hardiness zones 2 to 10, depending on species. The fruit does not ripen off the vine, so check color, flavor, sugar content and firmness before harvesting to ensure they are ready to pick.
When to Harvest
Before grapes fully mature, a number of changes take place with the grape, grapevine and grape seed. Look for these clues to determine harvest time.
The color of the grape will turn from green to red, blue or white depending on the variety. A white coating, called a bloom, will also be visible on a fully ripened grape. The grape seed and the stem that holds the cluster both turn from green to brown.
Squeeze a grape with your fingers. A grape ready for harvest will be slightly less than firm to the touch.
Tasting the grape is the best way to determine if it is ripe. Mature grapes will taste sweet and not acidic. Taste the grapes at the bottom tip of the cluster as these ripen last. A ripened grape will be 18 to 22 percent sugar with a pH level between 3.0 and 3.5. Portable handheld tools to measure sugar and pH in grapes are available from online retailers.
Be aware that weather and climate can impact harvest dates. Consider picking ripened grapes ahead of forecasted rainfall. If rain occurs, wait two days for grapes to dry before harvesting. If frost hits, pick ripened grapes immediately to preserve their quality.
How to Harvest
Home gardeners and owners of small-scale vineyards typically harvest grapes by hand, which is the preferred method. Careful handling is required to keep from crushing mature grapes.
Avoid dropping leaves, broken vines or stems into the harvest pail. These extra materials can damage the tender fruit.
Use clean, sharp pruning shears for harvesting grapes. Clean the shears with rubbing alcohol and dry thoroughly. Sharpen the shears if necessary. Consider wearing gloves to protect your hands from bee stings or injury.
Pull the grape cluster away from the vine and clip the stem about 1 inch above the top grape. Gently place the grape cluster in the harvest bucket.
After Harvest
Immediately refrigerate harvested grapes at a temperature between 32 and 40 degrees Fahrenheit with a humidity level of 85 percent. Do not leave grapes unrefrigerated longer than 12 hours. Refrigerated grapes maintain peak quality and flavor for up to three days after harvest. Long-term storage decreases their quality and taste.
Special Tools
Consider purchasing some tools and materials in early spring to ensure optimal harvest results.
• Netting – to place over vines for protection from birds • Brown paper bags – to place over half-grown grape clusters for protection from birds and severe weather • Sharp pruning shears – to cut stems • Rubbing alcohol – to clean shears • Gloves – to protect hands • Five-gallon buckets or plastic pails – to place harvested grapes • First aid or bee sting kit – to use for emergencies or injury • Hand-held refractometer – to measure sugar content of grapes • Hand-held pH meter – to measure the pH level of grapes