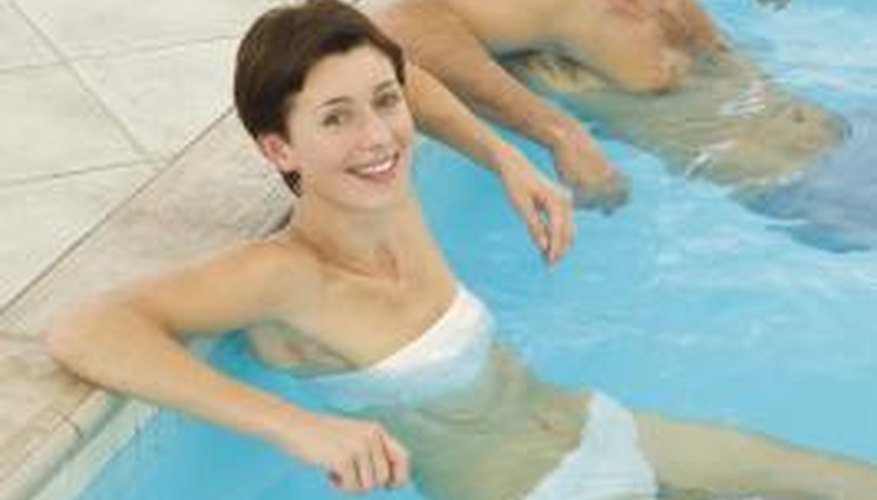 Jupiterimages/Pixland/Getty Images
A swimming pool is not something that you can simply have on your property and enjoy each summer without thinking much about it. On the contrary, a swimming pool requires many hours of regular maintenance, as well as some side projects that come up when things go wrong. One such side project might be replacing crumbling or worn-out caulking between the expansion joints that are found outside of the swimming pool, between the coping on the top edges of your pool and the deck or other surface outside of the pool.
Step 1
Scrape out the old caulk in the joint carefully using a putty knife.
Step 2
Wipe any moisture out of the area and let it dry for a few more hours in the sun.
Step 3
Tape off the area so only the expansion joint is visible. Lay a strip of backer rod foam in the space before caulking.
Step 4
Apply an elastomeric sealant caulk that's intended for outdoor use into the expansion joint, using a caulking gun to lay a consistent bead of caulk that is 1/2 inch in diameter.
Step 5
Smooth over the surface of the caulk with a rubber float.
Step 6
Pull off the tape before the caulk sets. Allow it to dry for the manufacturer-recommended length of time before getting it wet.
Things You Will Need
Rags

Putty knife

Tape

Backer rod foam

Caulking gun

Elastomeric sealant caulk

Rubber float