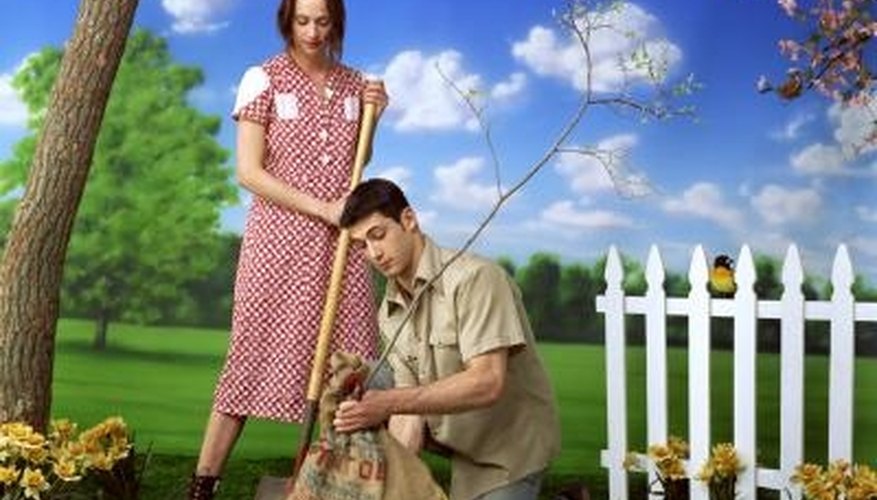 When trees are growing in the wrong area they may not thrive or may become too large for their surroundings. Moving them while they are young allows you to save the tree and continue to enjoy it in its new location. While large, mature trees should be moved only by professionals, moving small trees -- those with a trunk diameter of 3 inches or less -- requires no special equipment or expertise. Begin preparing for the move at least a year, and preferably two years, before you actually dig it up.
Measure the diameter of the tree trunk at a point 3 to 4 feet from the ground in fall before the tree goes dormant. Multiple this measurement by nine. Measure out from the trunk of the tree using this number and mark a circle around the tree with the tip of your spade. For example, a tree with a 3-inch-diameter trunk requires a circle around it that is 27 inches from the trunk.
Divide the circle into quarters. Cut down 18 inches into the soil along opposite quarters of the circle around the trunk with a sharp spade. The following fall, cut down into the soil on the other two sides of the trunk, completing the circle. This cutting, called root pruning, severs the roots and makes the size of the root ball more manageable when it's time to move the tree. After two years, your tree with a 3-inch-diameter trunk will have an 18-inch-deep trench encircling the tree trunk at a 27-inch distance.
Dig up the tree in the third year. Dig down below root ball 6 inches out from the root pruning line. Rock the tree back and forth to dislodge the bottom roots, cutting through any that remain attached to the soil.
Lift the tree out of the hole and slide a sheet of burlap beneath it. Wrap the burlap around the root ball and tie it closed around the trunk.
Grasp the tree by the root ball, not the trunk, and move it to its new location. Take care not to damage the root ball during transportation.
Dig the new planting hole to the same depth as the root ball but make it twice as wide. Set the burlapped root ball into the hole and adjust the depth until the top of the root ball sits even with the soil surface.
Fill the planting hole back in halfway then water the soil until its evenly moist. Untie the burlap and fold it out from the trunk. The burlap decomposes in the soil and won't inhibit the tree's roots. Finish filling in the hole, then water a second a time.