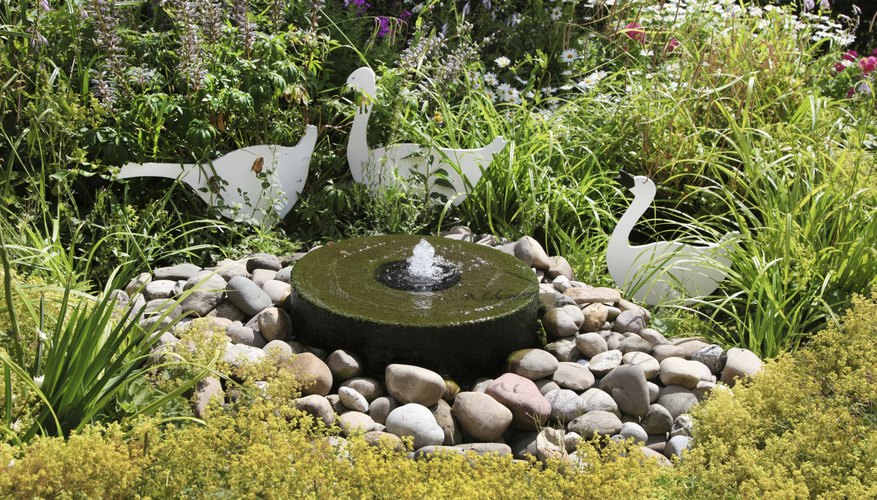 Garden fountains add motion and sound to your garden, making it more aesthetically pleasing and enjoyable. When the weather gets cold, though, fountains run the risk of being damaged if water freezes inside of them. In addition to potentially damaging the fountain's pump, freezing water can also crack or break the fountain body itself. Proper winterization is an important part of fountain maintenance that helps you prevent cold-related damage.
Disassembly and Storage
The most effective method of winterizing a fountain is disassembling it and storing it indoors where it won't be exposed to the elements during the winter. Depending on the amount of room you have, you could store the fountain pieces in a garage, storage shed, basement or other secure location. The main drawback with this winterization solution is that some fountains have heavy parts that are difficult to move or are secured to a spot in your garden.
Pump Protection
One of the dangers of cold weather is that it can freeze water within a fountain's pump system, rupturing water lines or breaking the pump itself. If you can't disassemble and store your entire fountain, removing the pump and storing it indoors will still go a long way toward preventing freezing damage. Once the danger of freezing has passed and you're ready to start using the fountain again, all you need to do is reinstall the pump.
Weatherproofing Techniques
If you remove the pump but leave the rest of the fountain outdoors, you need to weatherproof the fountain to keep water from freezing and damaging its body. Drain all water from the fountain and allow it to dry, then apply a sealant or other weatherproofing solution that will keep rain or other water from getting into cracks, crevices and porous surfaces on the fountain body. Allow the sealant to dry, then apply a second coat if the sealant's instructions specify that one is needed.
Fountain Covers
In addition to sealing the surface of your fountain, using a fountain cover will help prevent freezing damage during the winter. Place your fountain cover on the fountain body and secure it using a hook and loop fastener, bungee cords or other straps that come with your cover. If you don't have a cover for your fountain, you can cover the fountain with a tarp or other waterproof covering instead. Leave the cover in place until the danger of freezing has passed and you're ready to start using the fountain again.
Protecting Against Leaks
Even if you have a cover on your fountain, some water may get into the different fountain components over the course of the winter. To prevent this water from damaging your fountain, place a layer of absorbent material in the fountain basin. While you can use specialized materials that are designed for use in fountains, old towels and similar materials will also work. Check the materials periodically after rain or icy weather, replacing them with dry materials if necessary.