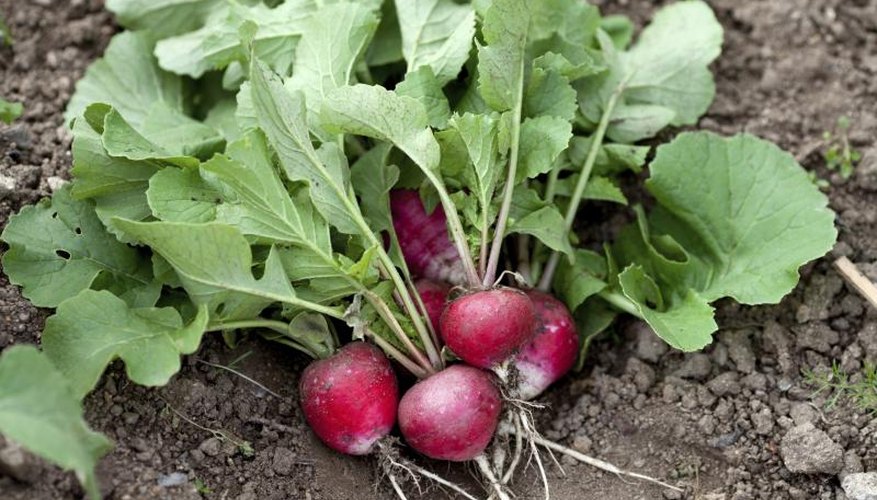 Radishes (Raphanus sativus) prefer cool temperatures between 50 and 65 degrees Fahrenheit, making them an ideal choice for the fall and spring garden. This is a fast-growing root crop with many varieties ready for harvest within 25 days of sowing the seeds. Growing a tender crop requires plenty of sun, consistent soil moisture and a weed-free environment. You can even grow this root vegetable in containers if you don't have room in the garden.
Thinning to the Right Spacing
Radishes grow best with a 3-inch spacing. Grown from seed, radishes need 1 inch spacing between the seeds at planting, then require thinning as the seedlings mature. The dense early planting is a smart way to make sure you get a full crop, as not all the seeds will germinate. Wait until the radish seedlings get 2 inches tall, then go through the bed and pull out extra seedlings, leaving 3 inches between the remaining radishes.
A Sunny Spot Works Best
While radishes grow in full sun or part shade, you'll get a better harvest with more sun. Full sun generally means any area that gets more than six hours of direct sun per day, while part shade means between two and four hours. Radishes prefer loamy soil that drains well. Because radishes are a root crop, they grow best in a garden bed that has been cleared of rocks. Cornell University notes that adding nitrogen fertilizer or nitrogen-rich manure may result in radishes with lush tops but small roots. Texas A&M suggests enriching the soil with small bits of plant matter like leaves and grass.
Regular Water Is Critical
Regular water gives radishes the best flavor. Keep the soil moist with weekly watering, providing about 1 inch of water per week. In the spring and fall, natural rainfall often makes up most of the water radishes need. Put a rain gauge in the garden and only water when the area gets less than 1 inch of rain. The 1 inch of water should moisten the soil 5 to 6 inches deep. Radishes don't require fertilizer during the growing season, though Harvest to Table suggests giving them a side dressing of aged compost in the middle of the season
Regular Weeding Minimizes Competition
Keeping weeds down helps radishes grow strong. Weeds take up space, compete for nutrients and rob your crop of water. Hand-weed the radish bed at least once a week to keep the interlopers from taking hold. Pull weeds gently so you don't dislodge the radishes too early. As you weed, gently rough up the surface of the soil to keep it soft and absorbent.
A Crop for Containers
You can grow radishes in containers. Any wide container, window box or other planter filled with regular potting soil works well. Just make sure it's at least 6 inches deep so the roots have room to grow. Space radishes 3 inches apart and keep the soil moist. Containers can dry out rapidly, so check the soil daily. If it feels dry at a depth of 1 inch, water the planter. Any planters you use for radishes must have drainage holes. Without proper drainage, this root crop can rot or split.