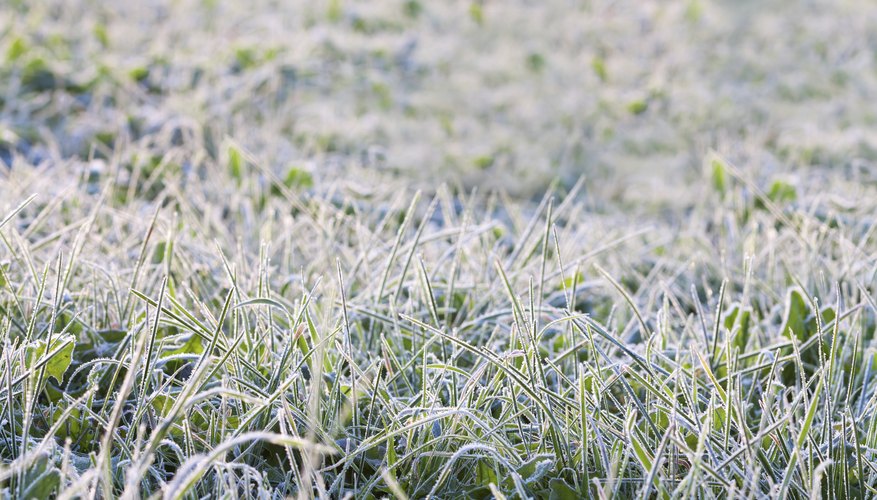 All spring and summer long, you probably take steps to keep your lawn looking healthy -- watering and mowing it regularly and feeding it enough fertilizer can all help keep your grass lush and green. But no matter how well you care for grass in warm weather, it may go for naught if you don't do proper maintenance in the winter. Winterizing a lawn isn't difficult, but you must use the right products for your particular type of grass if you want to keep it growing.
Aerate First
Aerating a lawn before applying any chemical treatments or fertilizers is key for the health of the grass. That's because it helps open up the soil beneath the lawn to provide better access to the roots for air and water. Aerating also makes it easier for nutrients in winterizing treatments to penetrate more effectively. While most lawns can benefit from aeration, it is especially important if the grass received heavy traffic during summer, which can cause the soil to become tightly compressed. You can use a self-propelled aerator or lawn mower aerating attachment to do the job more quickly, but hand- and foot-powered aerators can work just as well. Use the same pattern to aerate that you would while mowing.
Assess Your Lawn
Not all lawns necessarily need to be winterized. Winterizing treatments are typically formulated for cool season grasses such as Kentucky bluegrass (Poa pratensis, hardy in U.S. Department of Agriculture hardiness zones 2 through 6) and tall fescue (Schedonorus arundinaceus, hardy in USDA zones 4 through 7) that grow well in fall and require increased potassium and decreased nitrogen as the season goes on. But warm season grasses -- including St. Augustine (Stenotaphrum secundatum, hardy in USDA zones 8 through 11); Bermuda (Cynodon dactylon, hardy in USDA zones 7 through 10); centipede (Eremochloa ophiuroides, hardy in USDA zones 7 through 10); and zoysia (Zoysia japonica, hardy in USDA zones 5 through 10) -- do not require winterizing because they go dormant in winter and typically grow in warm climates where winterizing is usually not necessary. When these grasses require potassium, it should be applied in spring and summer, not fall. Conduct a soil test before treating the lawn. Purchase a kit at the local home and garden supply store that reveals the nutrient levels in the soil. If there are inadequate levels of potassium as you hit fall, it's a good idea to winterize.
Choose the Right Formula
Choosing a winterizer with the right formula is key if you want a healthy lawn come spring. Cool season lawns require potassium to strengthen and harden the plants so they can tolerate the cold and stress in winter weather. It also helps the grass absorb other nutrients more easily. Phosphorus is also important for a lawn's health in winter because it helps promotes root growth. Nitrogen, which helps enhance stem and leaf growth, isn't as important for a lawn in winter. That's why winterizing fertilizer usually contains higher levels of potassium and phosphorus and lower levels of nitrogen than you find in early-season fertilizers. To ensure that you're choosing the right product, check the ingredients ratio to ensure that there is more potassium and phosphorus than in usual summer, turf-building fertilizers. The nutrient ratio that appears on packaging features three numbers with the first representing nitrogen, the second representing phosphorus and the final number representing potassium.
Maintain All Winter
After you've applied a winterizer, don't neglect the lawn. If leaves and debris from surrounding trees are allowed to sit on the grass, they can actually cause dry or dead spots by suffocating the lawn and providing a moist environment for disease to grow. Rake regularly to remove debris as quickly as possible. Be sure to remove large branches and dead plants from your lawn as well to help promote even growth when spring rolls around.