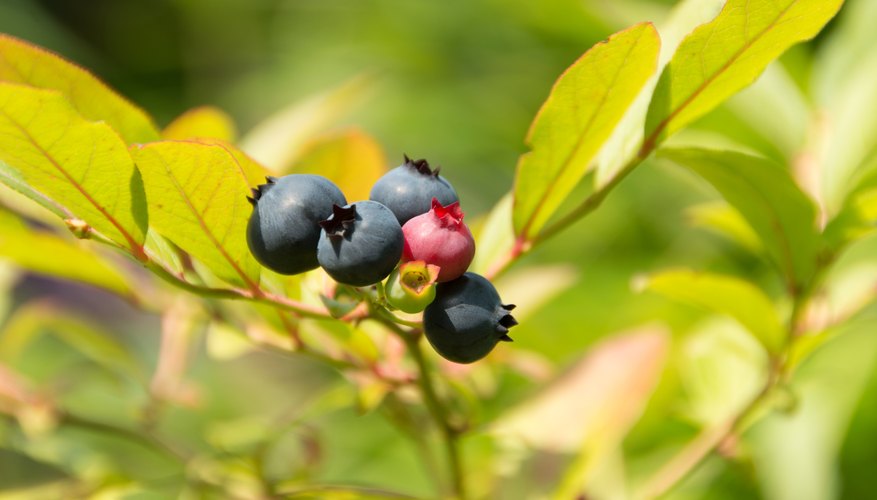 Blueberry plants (Vaccinium spp,) are easy to grow and produce sweet berries each year, so long as you're willing satisfy their particular cultural preferences. All types require acidic soil with a pH between 4.0 and 5.5, prefer even moisture and thrive when they get at least four hours of sun daily. There are several different types of blueberries, but all require some cool weather, so it's important to choose varieties suited to your climate if you have mild winters.
Blueberry Plants and Climate
Like many fruits that grow on deciduous plants, blueberries need some exposure to temperatures below 45 degrees Fahrenheit for some period each winter -- called chilling hours. A type of plant called a rabbiteye blueberry (Vaccinium virgatum) that's native to the southern United States needs between 350 and 650 hours of cold temperatures, making it a good choice for mild-winter areas. Rabbiteye varieties usually grow in U.S. Department of Agriculture plant hardiness zones 5 through 9 or 10, depending on the cultivar.
Another type of plant that can do well in warm areas is called a Southern highbush blueberry (Vaccinium corymbosum x Vaccinium darrowi). Produced by crossing different blueberry species, some of these hybrids need only 150 to 400 hours of chill. Southern highbush plants usually grow in USDA zones 6 through 10, with some variation among cultivars.
Some Rabbiteye Varieties
Rabbiteye blueberries are generally easy to grow and quite pest-resistant, flowering in early spring and bearing ripe berries from spring into mid-summer, depending on the cultivar. Varieties include 'Premier,' which has medium-to-large berries in late spring or early summer and grows in USDA zones 7 through 9, and 'Tifblue,' which has extra-large berries ready for picking in mid-summer and grows in USDA zones 7 through 9. A variety called 'Prince' has especially high yields that ripen early in the season; it grows in USDA zones 6A through 9B.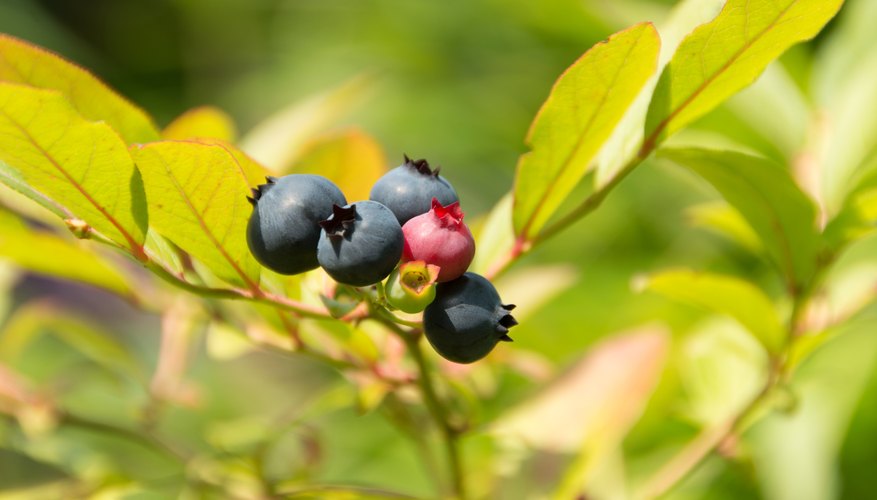 Southern Highbush Cultivars
Southern highbush cultivars usually thrive in warm areas, producing flavorful berries in spring through summer, with berries ripening a bit earlier in warmer regions. Among the many available varieties, 'Paloma' can produce sweet berries as early as April and grows in USDA zones 6 through 9. 'O'Neal' also has large, sweet berries, but they ripen a bit later than 'Paloma.' This plant is especially attractive, about 4 to 6 feet tall with a spreading habit; it grows in USDA zones 7B through 9.
If you live in an area where winter frost is rare or absent, try the cultivar 'Biloxi', which needs little winter chill and grows in USDA zones 8B through 11, or 'Misty,' which does well in USDA zones 6B through 10 and has extra-sweet berries that are sky-blue.