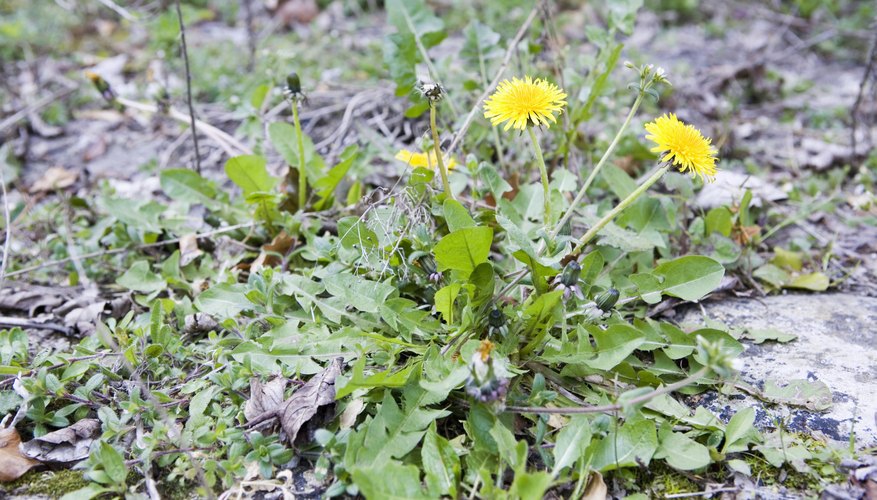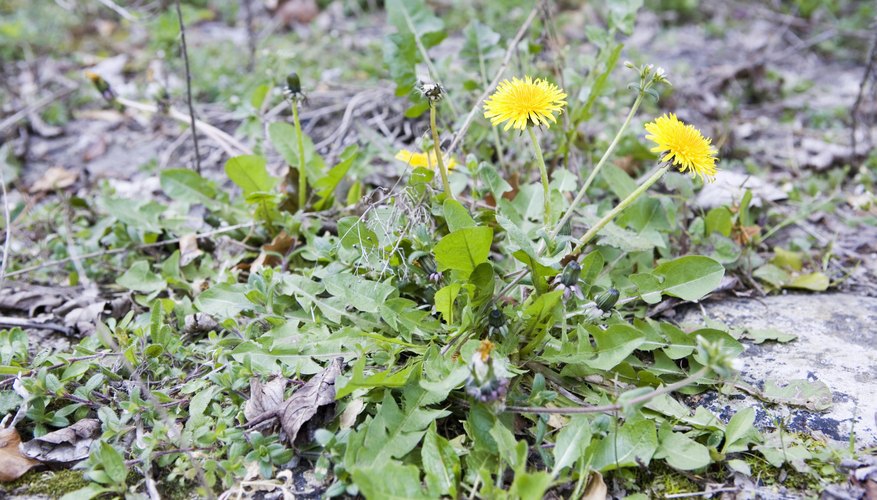 For gardeners concerned about using synthetic chemicals in the garden, there are a handful of organic herbicides that offer an alternative solution to troublesome weeds. Organic herbicides break down quickly in the garden, lessening environmental concerns.
Most organic herbicides are post-emergent, meaning they must be sprayed on weeds that have already emerged from the soil. They tend to be most effective on young annual weeds less than 4 inches tall. They are less effective on perennial weeds, particularly grasses, which may grow back even after multiple applications.
When using any herbicide, you must follow the rates and safety precautions listed on the label; to do otherwise is against the law.
Vinegar
Vinegar contains acetic acid, which kills plant tissue upon contact. Vinegar is not systemic and will not move through the plant; spray coverage must be thorough to kill as much of the plant as possible. Vinegar is most effective against weeds when the percentage of acetic acid is 10 percent to 20 percent. Most cooking vinegar contains 5 percent acetic acid, which may not be strong enough to significantly control weeds. Commercial herbicides are available with higher concentrations of acetic acid.
Vinegar is sometimes mixed with oils such as clove, peppermint, pine or citronella, which further help to damage plant foliage. A surfactant, such as yucca extract, may be added to help the solution stick to the target plant.
Vinegar can also be mixed with salt and dish soap, at a ratio of 1/2 gallon of vinegar, 1/2 cup of salt and 2 tablespoons of dish soap. Salt can also kill plants, and dish soap acts as a surfactant. Excessively applying salt to the garden, however, can lead to salt buildup in the soil, which damages plants.
Corn Gluten
Spreading corn gluten meal over the garden bed acts as a pre-emergent herbcide, killing weeds before they emerge. Corn gluten prevents seedlings from developing normal roots, causing them to die quickly.
Other Weed-Management Strategies
Spreading mulch in the garden is an environmentally friendly way to suppress weeds, while also conserving moisture in the soil. Thick, black plastic mulch is especially effective against weeds, although organic materials such as straw, wood chips, grass clippings and leaves also work well. Check grass and straw to make sure there are no weed seeds. Use a 4-inch layer of grass, straw or leaves and 2 to 4 inches of wood chips. Compact the mulch to minimize light penetration.
To minimize the area that weeds can potentially grow, space desired garden plants close together and avoid applying fertilizer and water between plant rows.
For additional information on herbicides and their use, see "Pros and Cons of Herbicides," and "Using Chemical Herbicides."