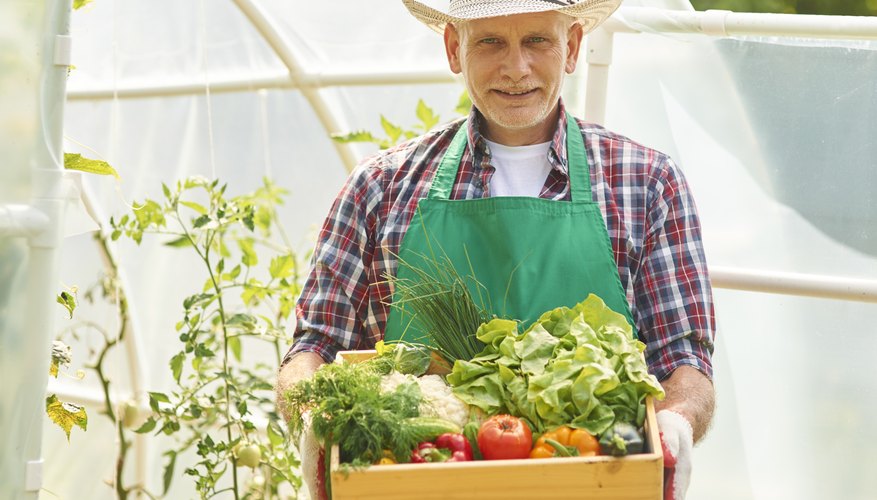 If you don't have land for a vegetable garden, you can do like many other urban farmers do and plant your garden in containers. You can grow any vegetable you want, but some -- such as pumpkins and corn -- require so much space that they may not be worth the trouble. Growing in containers allows you to include vegetables in your garden that might not otherwise make it in your locale, because you can always move pots indoors when cold weather comes.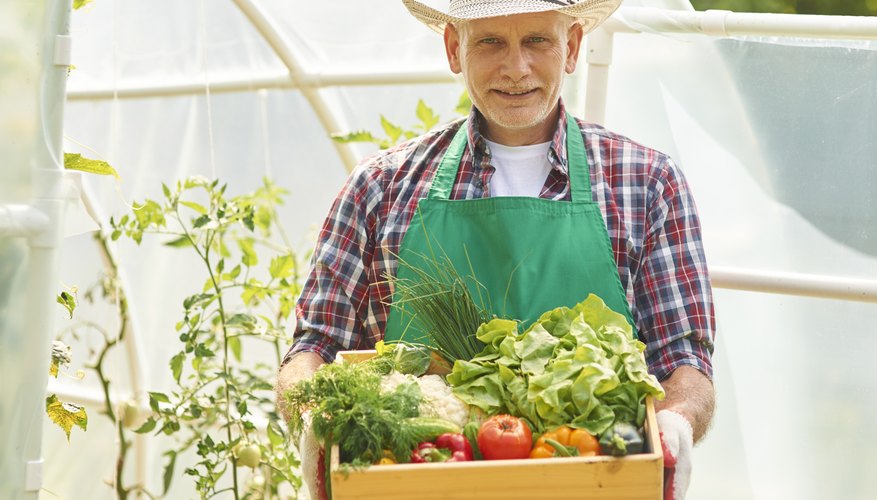 Make the Most of Limited Space
Pot size and soil depth are prime determinants when choosing suitable containers for potting vegetables; root varieties, such as carrots, need depth, and some plants, such as tomatoes, spread out to such an extent that each one requires an entire pot. A pot with a soil depth of 18 inches and a rim radius of 12 inches can accommodate most vegetables, even if they aren't dwarf varieties bred specifically for patio growing. The vegetables most likely to succeed, however, are the ones that can adapt to limited space by growing smaller than they would in the ground. If vegetables are suitable for container gardening, this information is usually specified on the seed package.
The "A" List
Although there's nothing to prevent you from experimenting with any vegetable you choose, some are known performers. These include:
Beans (Phaseolus vulgaris) -- These require moderately deep soil and relatively small pots, and because they're hardy in United States Department of Agriculture zones 2 to 11, they'll grow anywhere. Be prepared to construct a trellis system for climbing varieties. 

Tomatoes (Lycopersicon esculentum) -- Tomatoes are perennials in USDA zones 10 and 11, but they're easy to grow in other zones in full sun during the summer months. They'll produce during the winter if you move the pots indoors and place them in a sunny window. Each plant requires its own pot and a 5-foot cage to support its branches. The recommended minimum pot size is 5 gallons.

Cucumber (Cucumis sativus) -- Cucumbers are perennial in USDA zones 2 to 11. Bush varieties take up less space than trailing varieties and, although you may need to build a trellis, are probably better suited for containers.

Peppers (Capsicum annuum) -- Hardy in USDA zones 9 to 11, peppers demand sun and warm temperatures and often work best in an indoor container garden. You can choose from a large number of cultivars, some sweet, some hot and all ornamental. 

Eggplants (Solanum melongena) -- Another vegetable better suited for for indoor growing, eggplants are hardy in USDA zones 9 through 12. They require lots of sun and space -- one or two plants per pot -- and they are as ornamental as they are delicious.  

Carrots (Daucus carota var. sativus) -- Carrots are hardy in USDA zones 2 through 11. The depth of soil you need depends on variety -- some shorter ones work well in shallow pots with only 9 inches of soil. You can plant carrots close together, spacing seeds by as little as an inch.
Complement and Combine
Complement your garden with a variety of leafy vegetables, root vegetables and herbs. For example, lettuce (Lactuca sativa), hardy in USDA zones 2 to 11, grows well in containers, and if you keep a small garden close to the kitchen, you can trim leaves as needed to provide fresh salad for every meal.
When planting your garden, it's also wise to consider combining compatible vegetables and herbs in the same pot or placing them close to each other. The combination actually may actually help each plant to grow more vigorously. An example of such a combination -- seen frequently in vegetable gardens -- is tomatoes, basil and onions.