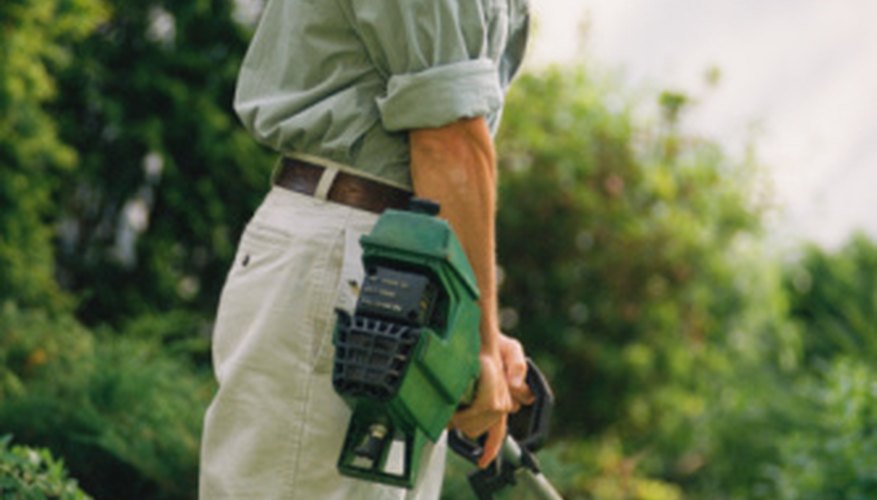 Jupiterimages/liquidlibrary/Getty Images
The Bolens BL160 is a straight shaft string trimmer with a two-cycle engine and a dual line bump head. It also features an EZ pull starting system. Less tension on the starter rope allows the operator to put less effort into starting the engine. If the starter pull rope shows signs of fraying, you should replace it. You wouldn't want to be stuck in the middle of a job where your trimmer won't start due to a broken pull rope. You'll have to re-wind the new pull rope around the starter pulley. You must remove the starter housing cover to gain access to the starter pulley and rope.
Disconnect the spark plug boot from the spark plug located on top of the trimmer's engine. This will prevent the trimmer from accidentally starting while you remove the starter housing cover.
Locate the screws securing the starter housing cover to the trimmer.
Remove all of the cover screws and set them aside.
Carefully lift the starter housing cover away from the trimmer to gain access to the starter rope and starter pulley.
Reinstall the starter housing cover once you've rewound new starter rope around the pulley. Secure the cover with the screws.
Tip
Open the choke on the trimmer when starting, then adjust the choke until the engine idles smoothly before you begin to trim.
Warning
The safest way to start a trimmer is to place it on the ground and pull the starter rope while holding the trimmer down with one hand.