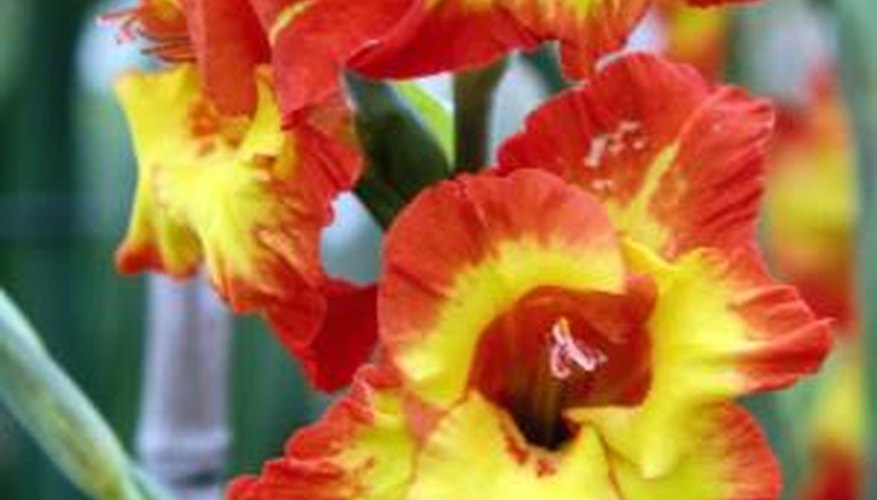 Gladiolus offers big, bold flower-covered spikes to the landscape -- it's no wonder this plant is so loved by gardeners. Since gladioli are not hardy enough to overwinter in most areas, gardeners dig up the plants and divide their corms as part of the yearly storage ritual. This yearly treatment increases their vigor since sickly parts of the plants can be removed so that the glads can multiply into many new plants.
Step 1
Dig up the corms after the first frost with a shovel or garden fork. Carefully dig out the soil approximately 2 inches away from the masses of crowns in a large circle while being careful not to injure other nearby clumps. Push the fork or shovel under the clump to dislodge it.
Step 2
Shake or brush off the excess soil from the corms back into the hole to expose the outer edges of the clump you are working on. Move the clump to a workbench or table where you can separate the corms.
Step 3
Separate the corms by snapping them apart by hand. Remove new corms from the top of old corms and break older corms off of one another. Discard any rotten, disfigured or unusually small corms. Cut any remaining foliage back to about 2 inches above the corms with a pair of handheld bypass pruners.
Step 4
Dry the best corms on a clean cloth in an unheated area with indirect lighting. Distribute the corms evenly and allow them to dry for two to three weeks. Brush any loose dirt from the dried corms and store them in a well-ventilated place with temperatures between 40 and 50 degrees Fahrenheit.
Things You Will Need
Shovel or garden fork

Clean cloth

Small brush

Handheld bypass pruners