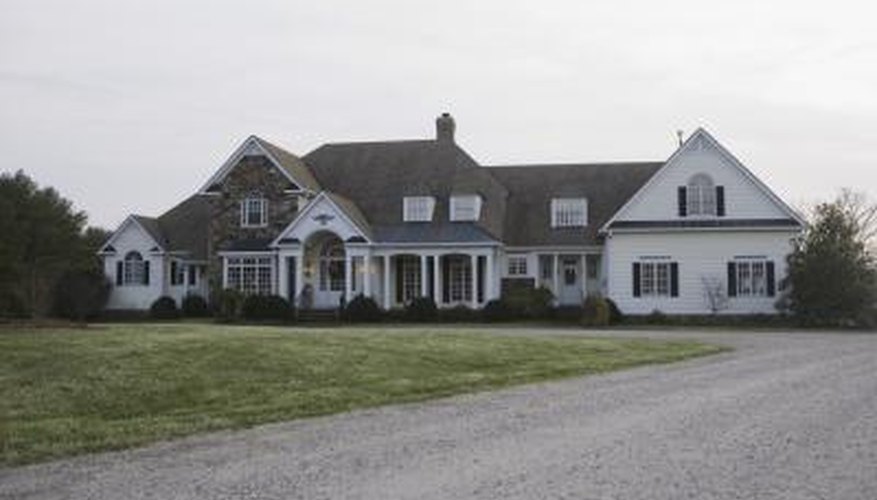 Gravel makes an attractive, inexpensive material for driveways, especially in rural areas. A sloped driveway creates some special challenges, though, because the gravel can become unstable due to erosion, mud or traffic. Select gravel that has sharp, rather than round edges. The sharp edges become knitted together to form a stable surface, while round bits of rock tend to slip and slide more.
Step 1
Build the driveway on hard, compacted earth. Soft, soggy earth makes a poor foundation for a driveway. Ensure that the middle of the driveway is slightly higher than the edges so water drains efficiently. If the driveway is very sloped or curving, build ditches a few feet from the driveway to drain water.
Step 2
Lay sheets of heavy-duty landscaping fabric over the soil to keep the dirt from mixing with the gravel. This may not be practical on long driveways.
Step 3
Lay a 6- to 8-inch layer of crushed, baseball-sized stone on the driveway. This stone may be referred to as #3 stone, depending on the quarry. Rake it to smooth it. Compact the stone with a mechanical roller or tamper.
Step 4
Add 4 inches of slightly smaller rock, such as #57 gravel, to the driveway. This rock should be about the size of a ping-pong ball. Level it and compact it, as well. Apply a final 4-inch layer of small, crushed rock, known as crusher run gravel.