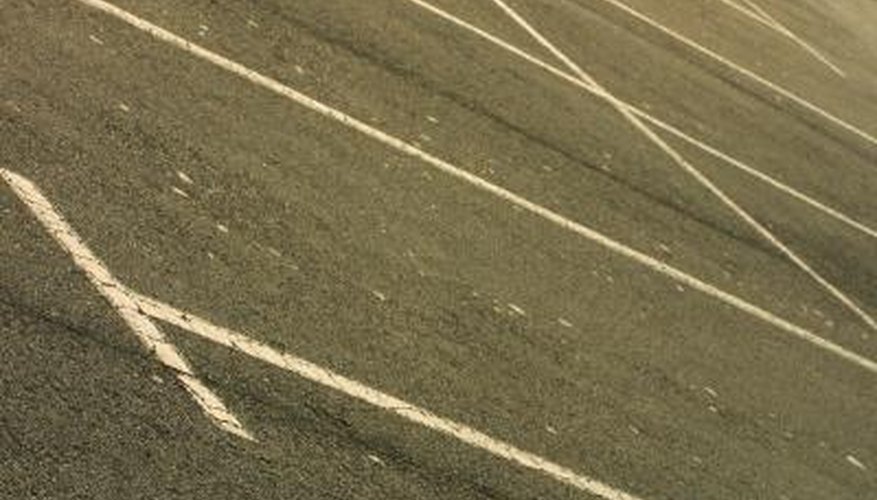 Establishing parking spaces in an open area or setting them up for the first time in a parking lot can often be done with the use of parking blocks. Instead of just setting concrete parking blocks on the ground, you need to install them properly, so the blocks will stop cars from pulling too far forward into the parking spaces. Installing concrete parking blocks is not difficult and can be done in an afternoon.
Step 1
Block off the area before you begin to ensure no one attempts to park where you're working. Use cones or tape. Determine how many parking blocks you want to use. Multiple the number of blocks by the number of holes in each block to know how many rebar spikes to use.
Step 2
Place each parking block where you want it to be installed. Make a tick mark on the ground with chalk to mark each hole of each block. Move the blocks away.
Step 3
Drill a hole at each marked point with the hammer drill to break the surface of the asphalt to at least 3 inches deep. Replace each parking block after the holes are drilled. Align the holes in the block with the holes in the asphalt.
Step 4
Slip a washer onto a piece of rebar. Set the rebar through a hole in the block and into the hole in the ground. Position a spike at each hole. Drive the spikes down with a sledgehammer one at a time until the head of each spike is close to the surface of the parking block.
Step 5
Drive the spikes gently until the head of the spikes are snug against the parking block. Do not hit the spike further once it is snug. Continue until each block is installed.