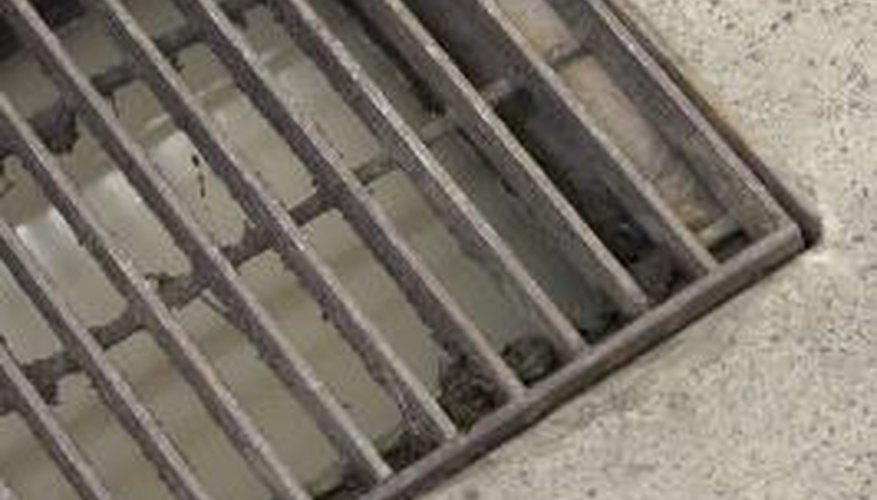 If your garage is located on an even plane with your driveway, or the driveway is elevated above it, you may find that the garage can flood. You can prevent this from happening by installing a drainage trench along the edge of the garage floor. The drain can prevent the water from flowing into the garage and can carry it away from the driveway.
Step 1
Spray paint the outline of the drain trench onto the surface where you want to install it. Add 2 inches to each side of the trench's width for a concrete driveway and at least 4 inches to each side of the width for an asphalt driveway.
Step 2
Tear up the concrete or asphalt inside the lines with a jackhammer. Work the jackhammer from one of the lines into the center of the trench and then switch to the other side when you have reached the center. Remove the chunks of concrete or asphalt from the trench.
Step 3
Dig out the soil inside the trench until it's deep enough to contain the plastic drain channel and a 2-inch deep layer of sand. Smooth the soil as best you can.
Step 4
Place the sand layer into the trench, sloping it away from the house at a rate of 1 inch for every 20 feet.
Step 5
Assemble the plastic drain channel, following the manufacturer's instructions.
Step 6
Place the plastic drain channel into the trench, centering it between the edges of the concrete or asphalt.
Step 7
Place tape over the grate on top of the drain channel to prevent concrete from falling through the grate and clogging the drain.
Step 8
Prepare a batch of concrete, following the manufacturer's instructions. Fill the gaps between the plastic drain channel and the surrounding floor with the concrete. Smooth the surface of the concrete with a trowel until it is flush with the concrete or asphalt of the driveway. Let the concrete set for 4 to 5 days before driving over it.
Step 9
Remove the tape from the surface of the grate.
Things You Will Need
Spray paint

Tape measure

Jackhammer

Safety goggles

Ear protection

Gloves

Shovel

Sand

Plastic drain channel

Tape

Concrete

Trowel