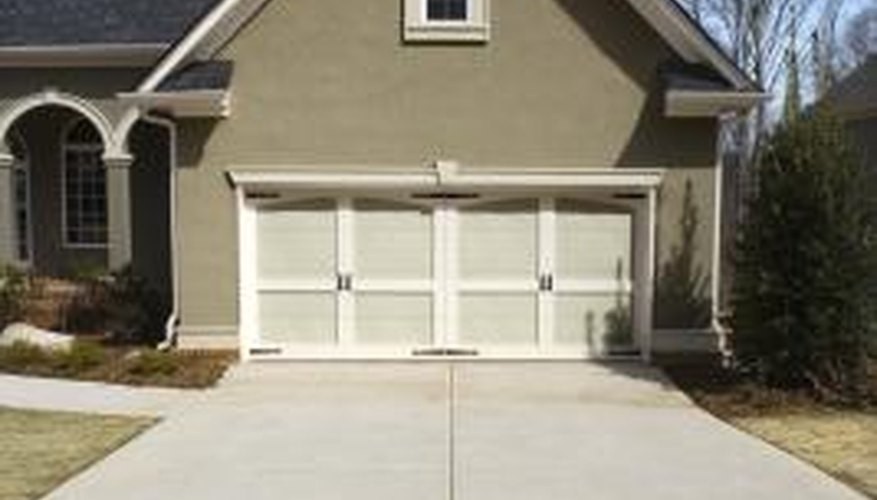 Concrete driveways and walkways can collapse and sink below grade over time. This sinking is caused by water washing away the earth beneath your driveway and pressure placed on the driveway by vehicles and changing weather. When your driveway begins to sink in some places, and not in others, a time tested method of renewal is mudjacking. The process of mudjacking requires that you inject concrete into the space beneath your sagging driveway, which in turn raises it to its former level.
Step 1
Use your core drill and 1¾-inch masonry bit to bore holes into the sinking concrete slab. Place the holes every three to eight feet along the concrete slab, depending on the amount of concrete to be raised, and the height to which it must be raised. The more height is necessary, the more holes you will need to jack it properly and effectively. Remove the core material from each hole and preserve it to use as a plug when filling the holes later on.
Step 2
Mix your self consolidating core fill grout according to the manufacturer's instructions. This concrete grout is a special blend, which provides the strength of aggregate concrete without the bulk or obstructions. It therefore provides a smooth and even support, ideal for mudjacking.
Step 3
Use a diesel powered hydraulic mudjack to fill the space beneath the concrete and raise it to its former position. Attach the mudjack to each of your drilled holes securely, and pump your grout mixture into the void until the slab is raised about 1/4 inch. The mudjack should then be moved to the next hole and the process repeated. This method provides an even lift, prevents cracking, and makes it more likely that the slab will be level upon completion.
Step 4
Replace the core cylinders once the slab has been raised to a satisfactory position. Slide the cylinder into the open hole, and use concrete adhesive to fasten it in place. If your core cylinders have been destroyed during drilling, fill the holes with concrete that matches your driveway material.