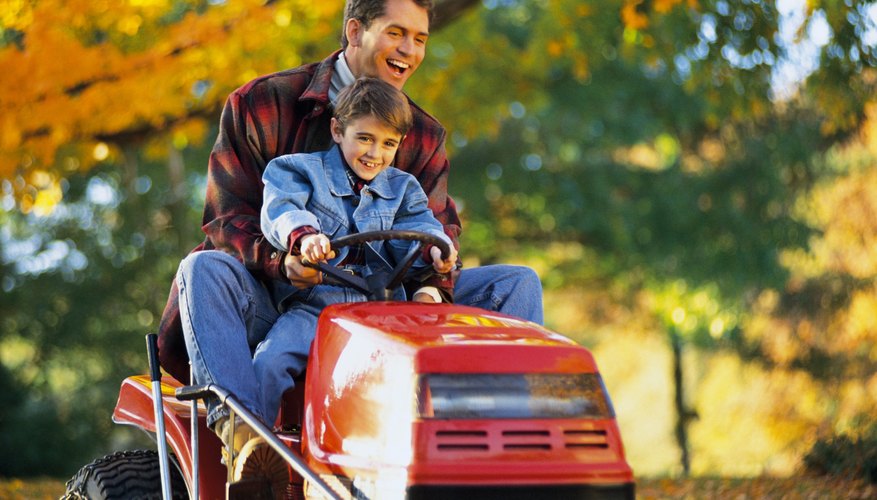 The electric clutch on a riding mower controls the engagement of the mower's blades so they can cut your lawn. The clutch can fail and the mower's blades can become unusable. You can troubleshoot and fix the riding mower's electric clutch yourself, avoiding costly professional repair.
Turn off the riding lawn mower and allow the motor several minutes to cool.
Open the front engine cover over the riding mower.
Find the flywheel on the mower's engine. The flywheel is a large circular part on the rear of the engine that is covered with an iron shroud secured with bolts. Remove these bolts with a socket wrench.
Remove the flywheel's cover now that the cover has been loosened from the bolt removal.
Check the fins on the outside of the flywheel. These cover the top of the electric clutch shaft. If there are any burrs that have formed on the fins, file them away using a handheld file.
Set the flywheel's cover back into place and reinsert its bolts with your socket wrench.
Attempt to run the riding mower and engage its blades. If the blades still do not engage, remove the flywheel cover just as you did before.
Attach a flywheel pulley to the flywheel. Position the pulley over the riding mower's flywheel and lower the pulley's arms onto the outer sides of the flywheel.
Use your socket wrench to tighten the center bolt on the pulley until the riding mower's flywheel comes entirely free from the engine due to the pressure.
Find the oil pan on the bottom of the engine and remove the bolts securing it. Set the oil pan to the side. This reveals the bottom of the riding mower's electric clutch shaft.
Remove all the bolts on the clutch shaft using the socket wrench. Save the bolts for later.
Use a rubber hammer to strike the center of the engine at the point where you removed the flywheel. This will pop out the clutch shaft.
Place a new clutch shaft into the spot vacated by the old one in the riding mower's engine. Reinsert the bolts into the shaft using your wrench.
Follow your oil pan and flywheel disassembly steps in reverse order to reconstruct the engine.