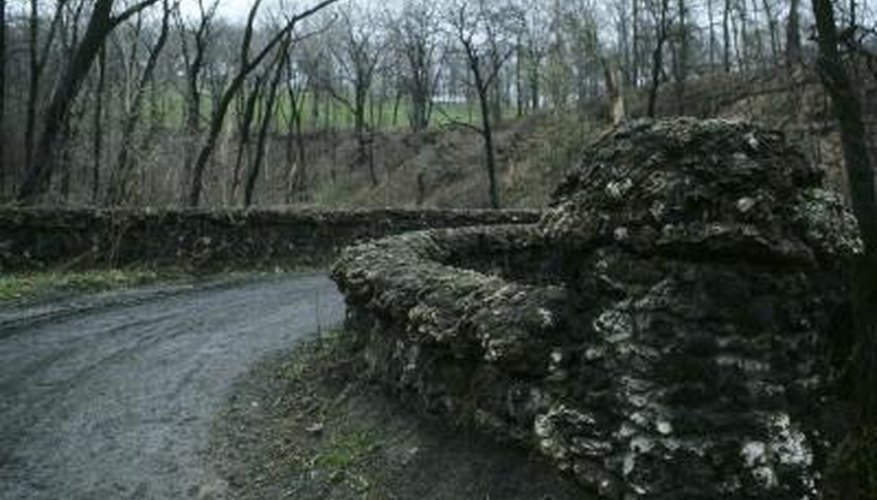 A retaining wall is an architectural structure designed to stabilize slopes and prevent erosion in areas where dirt shifts or moves. These structures must be built to withstand a great deal of pressure and must accommodate drainage for ground water. Most retaining walls are built using blocks made from aggregate and concrete that has been specially designed for use in a retaining wall. Over time, no matter how well constructed the retaining wall is, repairs and maintenance will be necessary.
Step 1
Increase drainage by adding weep holes. Poor drainage is among the most common causes of damage to a retaining wall. Drill through the brick with a masonry bit or, if the wall is made of wood, a regular large-sized bit. Use an electric hammer drill, work as close as possible to the bottom of the wall and install a hole every three feet.
Step 2
Correct the backfill behind the wall. Backfill, the dirt being held back by the retaining wall, will continue to shift over time. This shifting often leads to too much pressure against the retaining wall. Removing or readjusting this backfill will alleviate pressure against the wall, preventing cracks and other damage.
Step 3
Increase the number of tiebacks. These will increase the strength of the wall and prevent blowout failure, a condition that causes the wall to lean out and topple over. This is usually cause by fill dirt that is added within three feet of the top of the wall. These retroactive additions are a time-consuming, often costly problem.
Step 4
Replace two feet of soil with gravel. This will prevent wet soil failure, a condition that will potentially topple the wall. Wet soil failure occurs when soil becomes saturated and too heavy for the wall to handle.
Step 5
Upheaval related to frost indicates poor drainage. It is a problem that occurs in concrete when temperatures begin to drop. The expansion of frozen water creates large cracks in the blocks, and has the potential to cause complete failure of the wall. Improving drainage and patching the cracks will both fix and prevent damage.