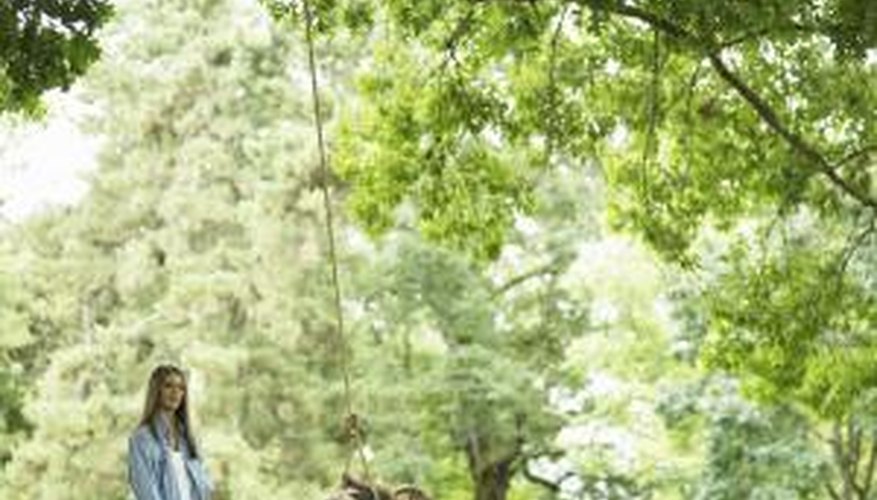 Ryan McVay/Digital Vision/Getty Images
A backyard landscape designed for children can involve a combination of natural elements, such as mud, rocks, water, bug-attractors and trees, and grassy organized play, such as a swing or swimming pool. A steeply sloped backyard offers landscape challenges and opportunities that a level yard does not. Naturalists at Green Hearts, Inc. describe a "kidscape" that encourages children to enjoy active play in and around nature. You can level part of the slope to incorporate flat-ground activities into your backyard landscape for kids.
Step 1
Build a large, lightly sloped area in which your children can play. Place a large log or felled tree at the bottom. Shovel soil from the steeper top to create a more level area near the bottom. Use a garden rake to smooth the soil out. Border the sides with large boulders, and add a layer of mulch to minimize erosion.
Step 2
Create digging holes and mud pits near the top of the slope where you excavated soil. Add a load of play sand to encourage the children to dig and play. Plant screening shrubs, such as boxwood, around this area if the aesthetics trouble you.
Step 3
Clear a sloping path until it is free of rocks and grass. During the summer, unroll a length of construction-grade plastic along the path, securing it at the top by burying the top edge under a layer of soil. Pile eight to 10 hay bales at the bottom to ensure a soft landing. Spray the plastic with a garden hose and allow the children to slide down. The slope becomes a sledding hill in winter.
Step 4
Pile odd pieces of lumber, rocks, leaves and tree limbs in a heap in a section of the yard. Toss in a handful of grass and sunflower seeds. Have the children carry a few buckets full of ordinary garden soil to the pile, and pour the soil atop the pile. Let nature take its course.
Step 5
Tie an old tire to a length of boat rope. Secure the rope to a sturdy branch of a tree on a slope to create a tire swing.
Step 6
Install a series of birdhouses in a line along a slope. Keep a stone bird bath at the slope bottom.
Step 7
Clear a sunny slope for a pumpkin patch. Let the children plant their own pumpkins in spring and tend them during the summer. Pumpkins need little care except for the occasional weeding and watering. In the fall, the children can harvest and carve pumpkins they grew themselves.
Things You Will Need
Shovel

Garden rake

Logs or felled trees

Large boulders

Mulch

Sand

Garden spade

Industrial plastic

Hay bales

Boat rope

Old tire

Garden soil

Sunflower seeds

Pumpkin seeds

Watering can

Bird houses

Bird bath

Rocks or broken concrete