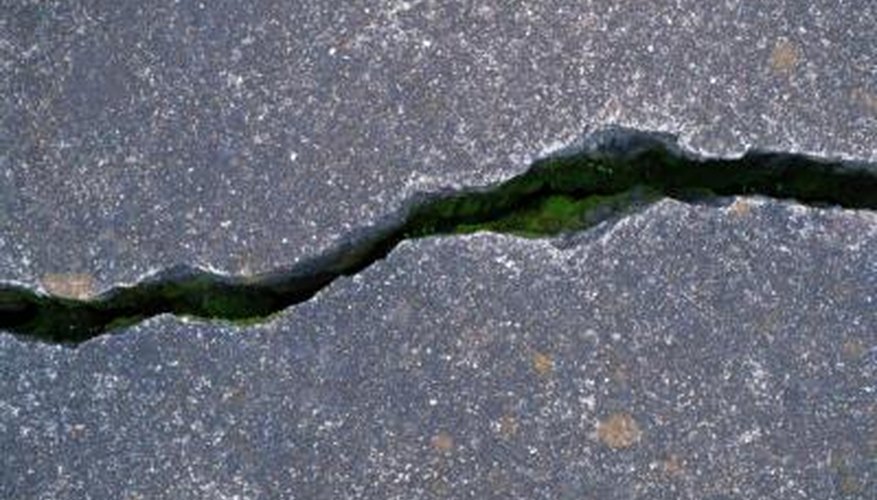 The last thing you want to see is a crack snaking its way through your driveway, garage floor or foundation. Unfortunately, cracks in cement are relatively common. The cracks can be the result of temperature changes or external forces – such as a large tree root growing underneath your driveway. While you should not panic at the sight of a crack, you shouldn't ignore it, either. Instead of paying a professional to repair the crack, save money by permanently correcting the crack yourself with epoxy.
Step 1
Expand the crack with a rotary blade until the crack is about an inch wide. Brush away the concrete dust, using a wire brush.
Step 2
Apply a small amount of rubber cement to the back of a surface port. Position the surface port over the center of the crack. The surface port will allow you to inject epoxy directly into the crack.
Step 3
Mix epoxy hardener and epoxy resin in a plastic bowl or cup, following the manufacturer's instructions. The size of the crack will determine how much epoxy you need.
Step 4
Spread a thin coat of epoxy over the surface of the crack, using a putty knife. This epoxy seals the outside of the crack and prevents the injected epoxy from leaking out. Let the application dry completely before proceeding with the repairs. This can take 48 to 72 hours, depending on the humidity.
Step 5
Mix a second batch of epoxy. Fill the epoxy syringe with the epoxy. Although you sealed the outside of the crack, you must now seal the inside of the crack to keep it from widening.
Step 6
Position the tip of the epoxy syringe into the surface port. Inject epoxy into the surface port until the crack is full. This fills the deep recesses of the crack that you would not otherwise be able to reach – keeping the crack from getting bigger.
Step 7
Remove the surface port. Let the epoxy cure. Sand the epoxy-filled crack with 100- to 200-grit sandpaper until the surface is smooth.