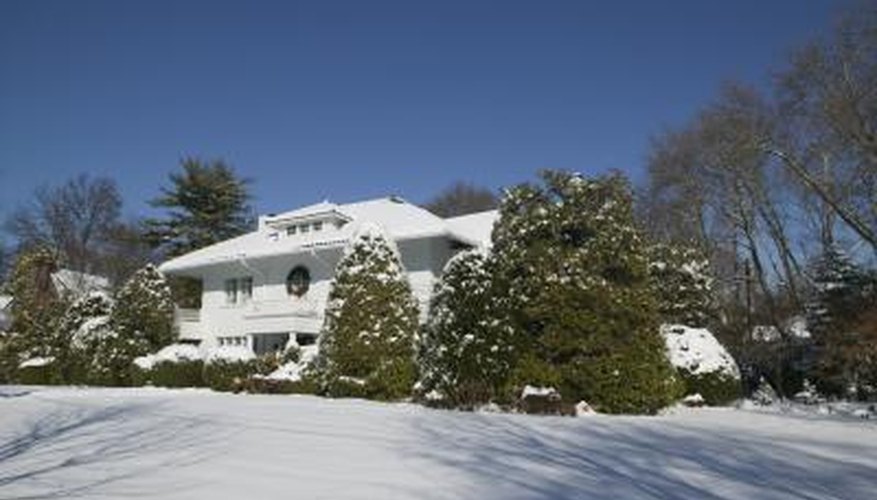 Arborvitae are low maintenance trees that produce vibrant evergreen growth and tall well-formed shapes for the home landscape. They are used as border or hedge plants, as specimens and may even be grown in pots when young. These fast-growing trees have multiple stems that grow upward and can be damaged by heavy snow, wind or ice. Arborvitae are commonly affected by winter burn where the foliage of the plant turns brown and dies out. Treatment of damaged arborvitae should not begin until spring when good care and fertilization will encourage new growth and pruning or cabling is used to remove or shore up damaged limbs.
Step 1
Wait until spring to determine the extent of the damage before you make any drastic cuts or treatments. The plant will usually recover unless there are broken stems.
Step 2
Provide supplemental water in cold weather to prevent dessication and brown foliage. Fertilize in late winter or early spring as soon as the soil is workable. Apply the recommended amount of granular fertilizer and work it into the top 3 inches of soil out to the drip line. Water the fertilizer into the soil until puddles form.
Step 3
Wrap the tree with twine to prevent further injury while you wait until spring for more severe treatment. Lightly wind a length of twine in a spiral direction from the base of the tree up to the top to gently bind the stems. Do it loosely to prevent further injury.
Step 4
Remove the twine in early spring and cut out any damaged wood. Make cuts just 1/4-inch before fresh undamaged wood. Use hand pruners for small branches less than 1/2-inch in diameter and a saw or loppers for larger areas.
Step 5
Pull together the branches that are not broken but have splayed and are drooping. Drill small holes all the way through the fattest part of the branches. Cut lengths of wire that will extend from the branch into the center of the tree.
Step 6
Bend the end of the wire and push it through the hole in each stem. The bend will keep the wire in the hole. Thread the other end of the wire through a washer held at the center of the tree then pull the branch into place. Twist the end of the wire to secure it.
Step 7
Repeat the process with all other errant branches, threading each through a washer and pulling it into place. Remove the wires and washers in three to four months when the stems have been trained back into place.
Things You Will Need
All-purpose granular fertilizer

Twine

Scissors

Pruners

Saw

Loppers

Drill

1/16-inch drill bit

20-gauge galvanized wire

Wire snips

Pliers

Metal washers