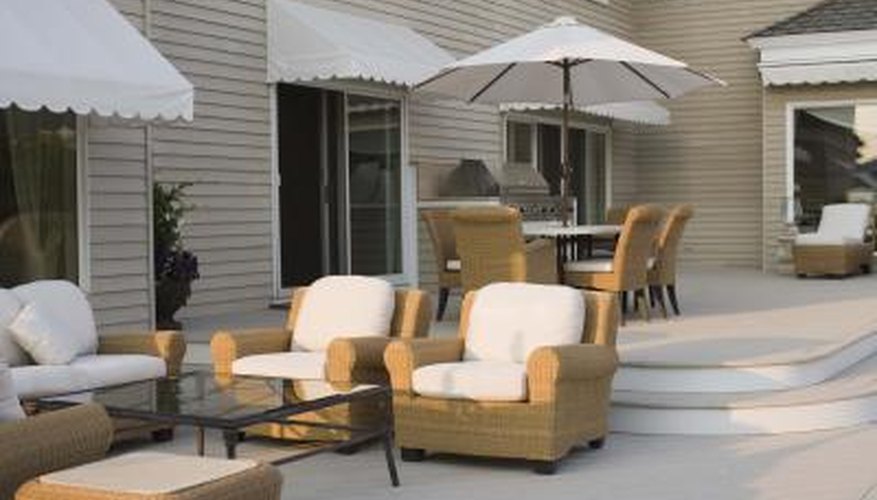 Concrete pavers come in many sizes, from small decorative pavers about the size of a brick, to larger pavers that may cover an area of one square foot or more. Whatever the size, they're excellent material for patio construction projects. Concrete pavers are durable and easy to work with -- perfect for developing an outdoor living area that has a sense of style and character. To build a paver patio using large pavers, you'll need to prepare a base for the pavers, fill the base with sand, edge the area and then lay your pavers. This requires some heavy work, but you can easily master the techniques involved.
Step 1
Stake out the perimeter the area where you want to locate your patio. Connect the stakes with string. Mark the perimeter of the area with marking paint.
Step 2
Dig out the sod and dirt to a depth of 6 inches with a shovel. Lay strips of landscape cloth on the bottom of the excavated area. The landscape cloth helps prevent erosion and inhibits weed growth. Cut the landscape cloth to fit with a utility knife as necessary and overlap separate pieces by several inches.
Step 3
Place a 4-inch deep layer of sand on top of the landscape cloth. Rake the sand smooth. Place paving edgers on the sand at the perimeter of the patio area.
Step 4
Place your pavers on the sand. Place a level on each paver as you proceed to check the level.
Step 5
Brush a layer of sand on top of the pavers and work it into the cracks between the pavers with a broom. Brush off any remaining sand when you're done.