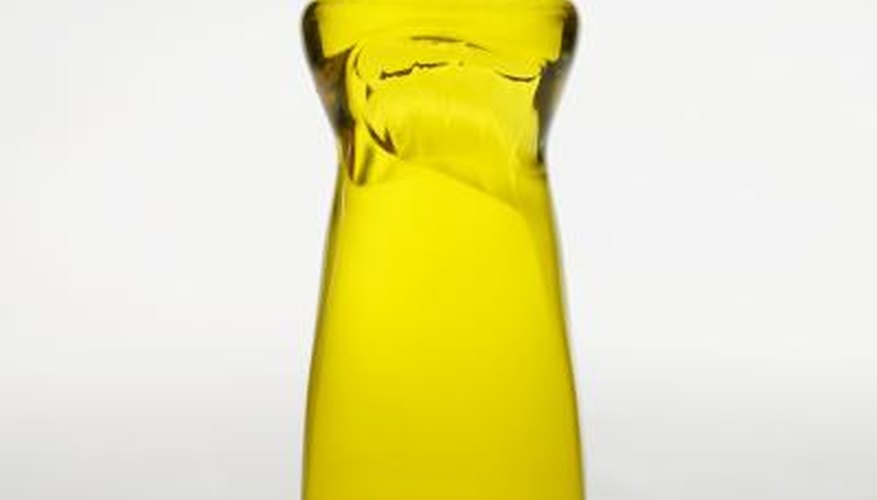 Aphids are soft-bodied insects that often cluster on the undersides of plant leaves, feeding on the juicy insides of the foliage. Aphids leave behind a sticky substance known as honeydew, which attracts ants and flies and is a breeding ground for sooty mold infection. If the plant or insect population is small, try wiping the aphids off with a soft cloth. If that doesn't work, you can make organic pesticides with common household ingredients.
Step 1
Mix one-third cup each of vegetable oil and dishwashing detergent with 1 gallon of water. If you do not want to risk getting oil on nearby upholstery or floors while spraying indoor plants, mix 3 tablespoons of liquid soap into 1 gallon of water. An alternate mixture, which works on a wide array of insects, is one-half cup of rubbing alcohol mixed with 1 quart of liquid soap. Fill a spray bottle or pump sprayer with any of these mixtures.
Step 2
Use the spray bottle for smaller plants and the pump sprayer for large plants or outdoors. Spray the mixture onto the leaves infested with aphids and continue spraying, drenching the rest of the foliage. Be sure to drench both the upper part and the undersides of the leaves for the best results. Oils and soaps block the insects' breathing holes, smothering them.
Step 3
Wait 20 minutes for the alcohol-soap mixture to work, and wait several hours for the other mixtures to take effect. Rinse the homemade insecticide off the plants with plain water. Use the garden hose outdoors in the garden. Take indoor plants to the kitchen sink or bathroom for a long shower if they aren't too heavy. Move large, heavy plants outside to wash them off with the garden hose.
Step 4
Spray the plants every three days for two weeks, or until the aphids are all gone. Dispose of leftover homemade pesticide, and clean or dispose of sprayers. If you store the material and sprayers, use as much caution as you would use to store commercial pesticides. Keep the mixtures away from children and pets.