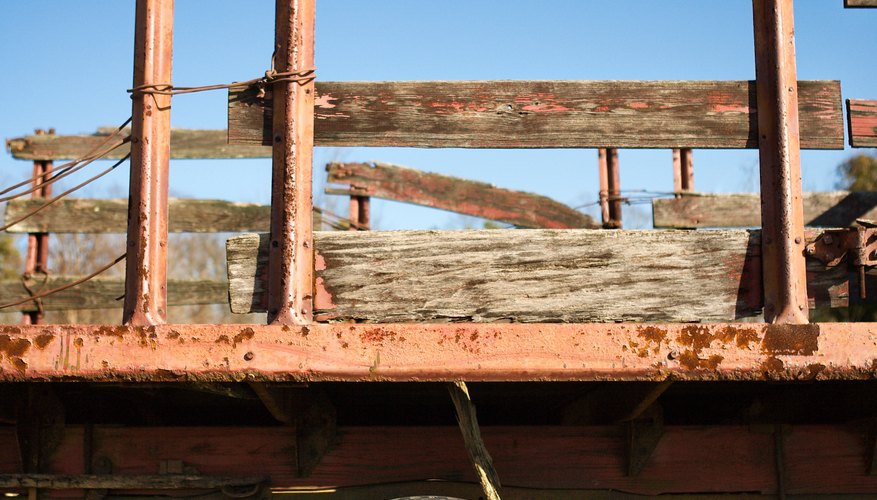 Decking a metal utility trailer prolongs its useful life and, depending on the intended purpose, can make it more usable by strengthening the trailer deck. The frame of a trailer wears out much more slowly than the wood deck, leading to the need to re-deck at least once during the trailer's service life. Building a wood deck is not difficult, and you will be rewarded with years more service from your trailer.
Strip any remaining decking off the metal base of the utility trailer and clean it with a wire brush. When all rust is removed, pressure wash and let dry before applying metal paint to prevent rusting. Measure the trailer to see how much wood you will need to buy, keeping in mind that 12-inch wide boards are actually slightly smaller, usually 11 3/4 inches.
Cut the boards to the length of the trailer, notching the sides as needed to allow room for the wheel wells. Lay the boards and fasten down one at a time.
Screw the boards to the metal of the trailer with the tempered deck screws. Fasten just before the axle and to the rear of the axle. The ends will be secured later.
Lay the steel bar stock on the ends of the boards at the front and rear of the trailer. Drill through the bar stock, board, and frame of the trailer and fasten them all together with carriage bolts and washers. The straps of bar stock will prevent your boards from warping.
Things You Will Need
2-by-12 inch boards

Tempered deck screws

Carriage bolts and washers

Steel bar stock

Metal paint

Wire brush

Drill

Saw

Drill bit for metal
Tip
If a perfectly flat surface is desired, rout the boards where the bar stock will be installed for a flush installation.
Warning
Always wear safety goggles and ear protection while operating power equipment.