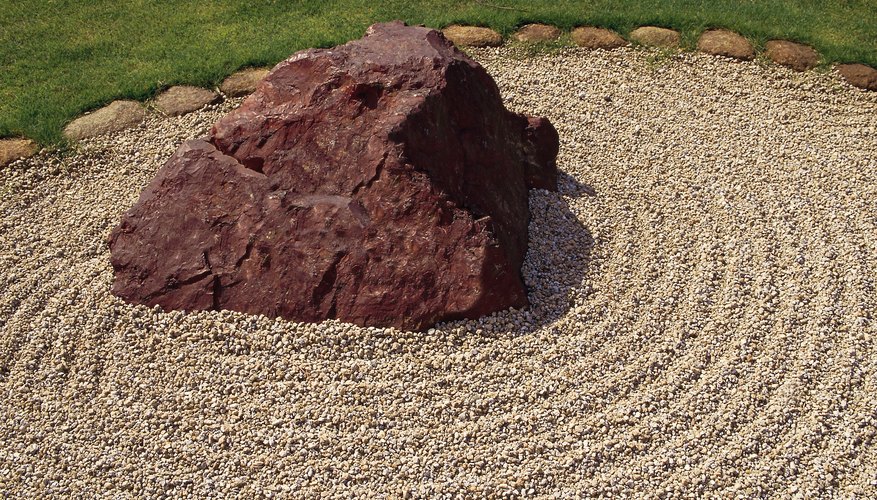 Rock beds are a good way to landscape a yard to enhance the appearance and require little to no water and maintenance. Whether you plant a few select plants in the bed or fill it entirely with rock, you can create an outdoor oasis. One problem that many rock beds develop is weed growth from seeds that blow into the crevices and then germinate. Getting rid of these overgrown weeds neatens the landscape and prevents them from spreading more seeds.
Monitor the weather forecast and wait until a period of at least three to four days when no rain will occur. Rain will wash away the products that kill the weeds and you will have to retreat the area.
Cover any desirable plants in the rock bed with plastic tarps to prevent the spray from drifting onto them during the application process.
Fill a garden sprayer with undiluted white vinegar if there are many overgrown weeds. Otherwise, place the vinegar into a hand-held spray bottle.
Walk out to the rock bed and spray the vinegar solution onto all stems and leaves of the overgrown weeds until they are completely soaked.
Open up the sprayer and pour 1/4 cup of vinegar down into the rocks at the base of the weeds so that it soaks down into the soil to kill the roots as well.
Wait two to three days and look at the rock bed. Pull up all weeds that are completely brown to neaten the bed. Then spray more vinegar onto any weeds that still remain green to kill them.