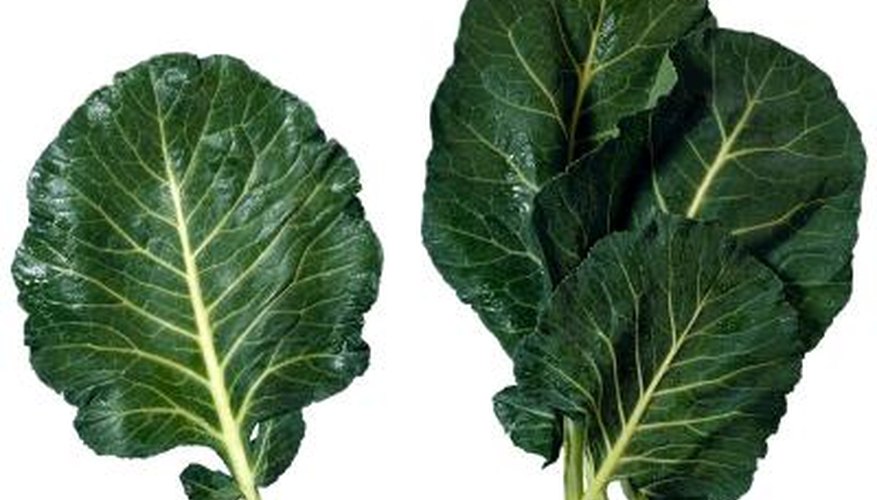 Collard greens are a cool-season leafy vegetable often described as a headless cabbage, or tree cabbage. Because collard greens are succulent and tender, they are extremely susceptible to aphids. Aphids feast on the sap of collard greens, and if left undisturbed can destroy the whole plant. Ants like to "herd" aphids and collect the dew they excrete, so if there is a lot of ant activity in your garden, pay close attention to your collard greens. Although it requires some persistence, aphid control is relatively simple.
Step 1
Inspect the underside of the collard green leaves. The first sign of an aphid infestation is the small, soft-bodied aphid larvae that look like a translucent egg shape on the leaves, mostly near the veins.
Step 2
Hand-squash a number of aphids among the collard patch. The squashed insect releases a chemical that is repellant to other aphids.
Step 3
Spray the collards, particularly under the leaves, with water from a hose with a spray nozzle.
Step 4
Mix a solution of insecticidal soap and water, following the recommended ratios from the soap manufacturer, and spray on collards with a spray bottle, ensuring the entire plant is covered. This soapy solution stops the aphids from breathing and kills them.
Step 5
Wash off soapy solution after around two hours to avoid plant damage, and repeat every two days to keep aphids at bay.