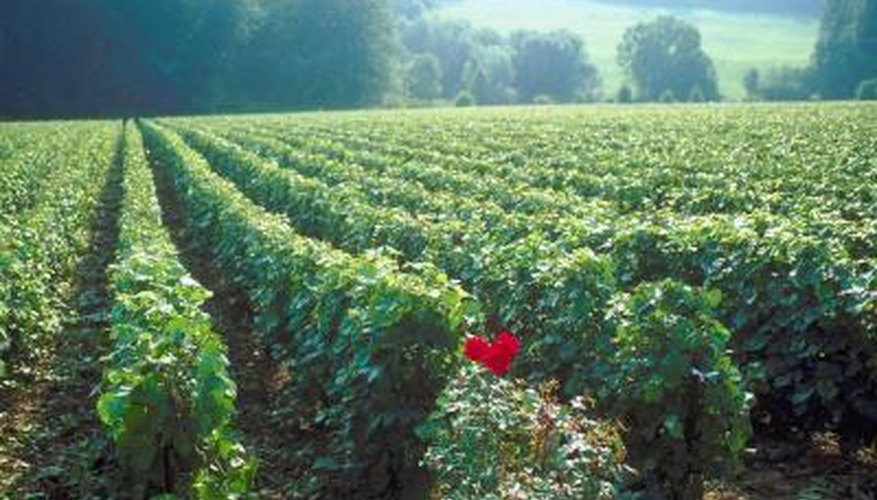 Grapevines are cultivated in a range of configurations. Small gardens display espaliered grapevines climbing walls or decorative fences. Large, commercial producers use a variety of frames -- from H-brace end-post systems to end-post tie systems to anchored end-post systems. Each of these frames, or growing systems, is adapted to a specific type of climate, soil condition and grape. Small-scale, home grape growers use a basic trellis system that combines the need for production with the limitations of space and a nod to aesthetics.
Step 1
Choose a site for the trellis. Level sites with access to water and sun are superior to other sites.
Step 2
Mark the ground for postholes and plants. Space the planting hole marks six to seven feet apart for European grape cultivars and seven to eight feet apart for American varieties.
Step 3
Dig end postholes to a depth of 2 to 3 feet and a diameter of eight inches.
Step 4
Dig line posts holes to a depth of 2 feet with a four to five inch diameter. Space line posts every three plants, or 18 to 21 feet apart.
Step 5
Set end posts in the ground, canted slightly away from the rest of the row.
Step 6
Set line posts in their positions, keeping them perpendicular to the ground.
Step 7
String 12-gauge wire from end post to line posts to end post. Keep a taut tensile strength.