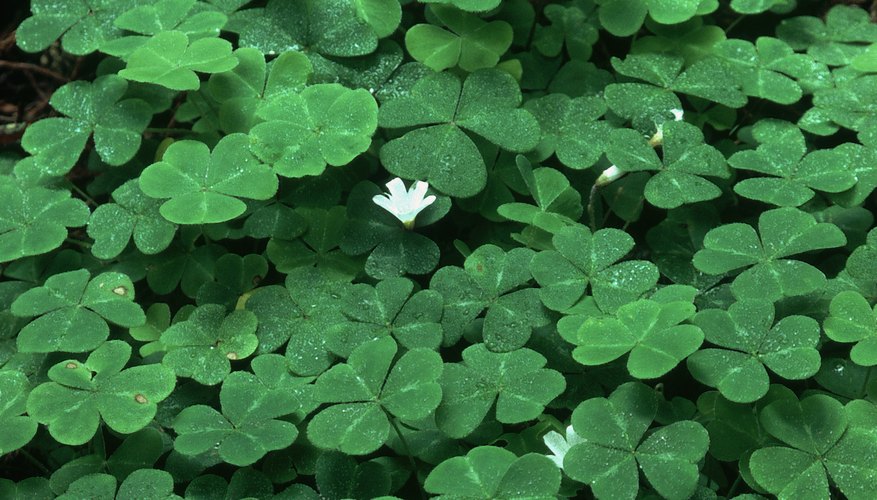 Oxalis is sometimes considered ornamental due to its yellow, pink or purple flowers, but the plant can also be a nuisance. Oxalis is grows quickly and can rapidly take over a lawn if it's not controlled. This weed, also known as yellow wood sorrel, requires vigilance to completely eradicate as it often reemerges each season. Mulching is effective against oxalis but is impractical if the weed has invaded large areas of the lawn. In this instance, chemical herbicides are generally recommended.
Cover desirable plants on the lawn with plastic sheeting to protect them from herbicidal sprays. Broad spectrum herbicides are indiscriminate and can adversely affect surrounding vegetation.
Apply a post-emergent broadleaf herbicide uniformly on the entire lawn in the amount recommended by the manufacturer. In general, herbicides should be applied in moderate temperatures. Spray weeds directly until they are well-saturated with the herbicide. Read instructions on the label for information on frequency of application.
Manually rake up and pull any weeds as they reemerge. Remove all shoots and stems and place the plant and plant debris in plastic bags. Oxalis typically produces an abundance of seeds that can quickly spread the weed to new areas.
Apply a pre-emergent herbicide according to the manufacturer's directions in early spring to prevent oxalis from sprouting. Treating the lawn before the weed sprouts coupled with post-emergent treatments can eventually lead to complete elimination. The lawn may require repeated applications. Read herbicide labels carefully for application schedule.