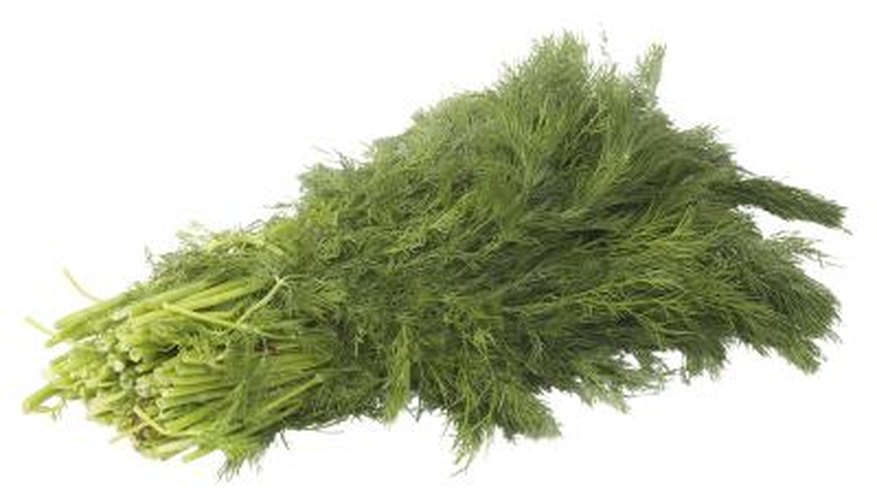 Dill is an herb plant with delicate, feathery foliage. The foliage has a strong flavor and pungent aroma, making it useful in numerous dishes including soups, dips, sauces and as a flavoring agent for meats. Dill lends itself well to both indoor container gardens and outdoor traditional gardens. The plants grow rapidly and may be used immediately after harvesting to add nutritional value and a pop of flavor to foods.
Step 1
Care for your dill plants by providing adequate moisture, ample sunlight and planting in rich, well-drained soil. Taking these measures produces healthy dill plants for harvest.
Step 2
Allow the plants to reach maturity for the largest harvest possible. This takes about 70 days for foliage harvesting and 90 days for seed harvesting. Foliage may be harvested at any time during the growing season if desired, however, as long as the foliage is green.
Step 3
Use scissors to cut the foliage close to the main stem of the plant once maturity is reached. Harvest in the morning after all the dew on the plant has dried.
Step 4
Allow some of the branches on the plant to go to flower. These flowers turn into seeds. Wait for the lower seeds on the head to turn brown, then cut the head from the plant. Green seeds may finish drying and browning indoors by tying them with string and hanging them upside down in a dark, well-ventilated place. Punch holes in the sides of a brown paper bag, then tie the bag over the heads of drying seeds. The seeds mature and fall into the bag for collection. Seeds will scatter if allowed to fully mature on the plant, making them difficult or impossible to harvest.
Tips
Harvest continuous indoor dill crops or multiple outdoor dill crops by using a succession planting method. Plant a fresh batch of seeds every two to three weeks for indoor plants, or every two to three weeks during the spring and summer months for outdoor plants.

Do not wash harvested dill to preserve the essential oils contained in the plant.
Warning
Never harvest more than two-thirds of your plant at a time if you plan to keep the plant productive beyond that harvest.