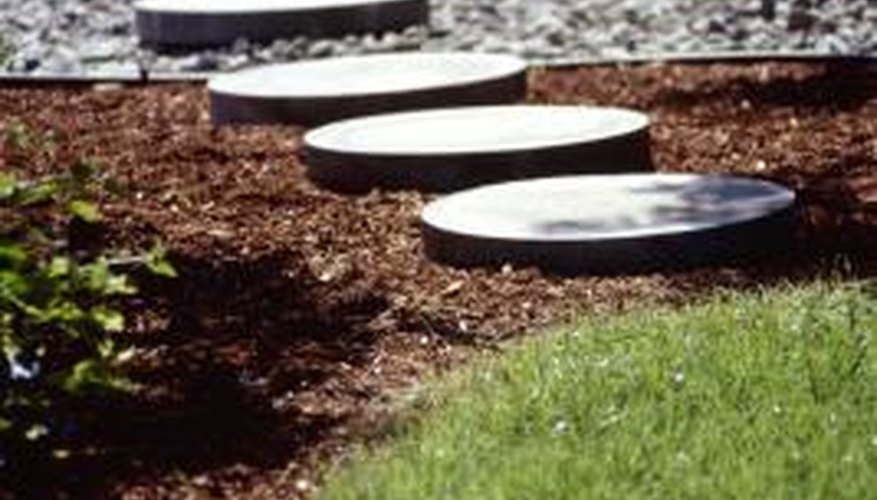 Dynamic Graphics Group/Dynamic Graphics Group/Getty Images
When building a paver patio or walkway, the cost of purchasing premanufactured pavers can add up. Save money by making pavers instead of buying them. Make a paver by pouring concrete into a rubber paver mold. Rubber allows for the easy release of the mold from the hardened concrete and will stand up for the creation of multiple stones. When requiring the safety of traction, create exposed aggregate rather than smooth pavers.
Step 1
Line up at least four rubber paver molds on a protected work surface. Using more than one mold allows for larger concrete pours and yields of multiple pavers per pour.
Step 2
Spray the insides of the paver molds with mold release. A liquid mold release agent is not required, as concrete will not stick to rubber, but it will extend the life of the molds and help them come off easier.
Step 3
Sprinkle a semi-fine smattering of crushed rock or small pebbles on the bottoms of the paver molds.
Step 4
Add water bit by bit to fast-setting concrete premix until a thick, soupy consistency results, making the amount of concrete premix needed to fill the molds. Add concrete tint, if desired, to color the pavers.
Step 5
Pour the concrete into the molds, filling the molds to the brim.
Step 6
Shake the molds slightly and tap the table next to or under the molds to release any air pockets that may have become trapped in the concrete. Add a bit more concrete if any concrete levels dropped below the brims of the molds after releasing the air pockets.
Step 7
Leave the concrete for a few minutes until its sets to a firm consistency. Bend the edges of the rubber back and peel the rubber molds from the pavers. Flip the pavers over. The crushed rock or pebbles that were sprinkled in the bottoms of the molds will now be embedded in the tops of the pavers to create exposed aggregate surfaces.
Step 8
Place the pavers under plastic. Mist the pavers with water and leave them under the plastic for the duration of the curing process. Fast-setting concrete typically cures within an hour.
Step 9
Continue casting pavers to create the total number of pavers needed for the project.
Things You Will Need
Rubber paver molds

1 can Mold release

1 gallon crushed rock or pebbles per square foot of total paver area

1 50-lb. bag fast-setting concrete premix per .375 cubic feet of total paver area

Concrete tint (optional)

Plastic sheeting