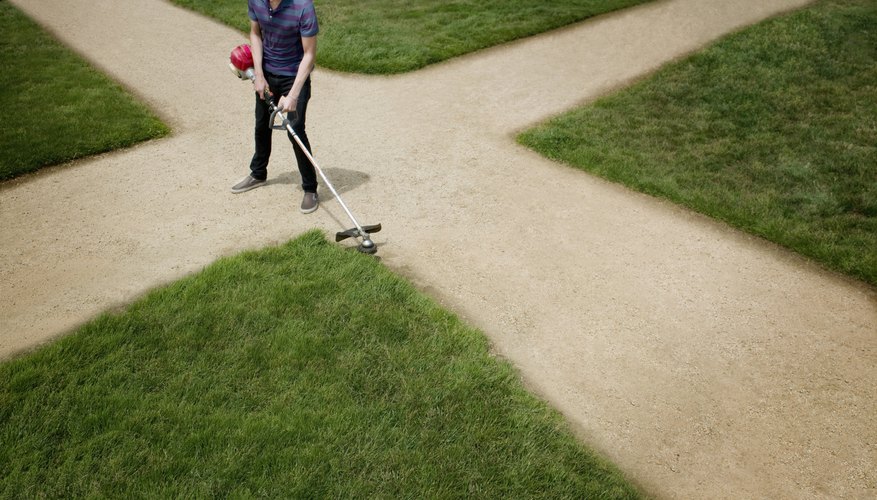 Siri Stafford/Lifesize/Getty Images
A weed eater is an essential tool in the arsenal of a homeowner, as it cuts grass and weeds in places that the blades of your lawnmower cannot reach, such as around the base of your mailbox or the bottom of a fence. Some manufacturers, such as Echo, build weed eaters that can be equipped with cutting blades that can be used to cut through thick weeds and brush that the standard nylon string trimmer head cannot cut through.
Attach the metal blade shield to the end of the trimmer using the included hardware.
Flip the trimmer head upside-down and slide the upper plate onto the end of the shaft.
Place the blade on top of the upper plate, positioning it so the arrow painted on the blade points in the same direction as the blade rotates.
Place the lower plate over the center of the blade and attach it by turning a 10 mm left-handed locking nut counterclockwise until it's tight enough to hold the blade in place.
Line up the hole in the upper plate and the notch in the gear housing. Slide the locking tool into the hole.
Tighten the 10 mm nut until it is securely in place. Slide a cotter pin through the hole at the end of the shaft. Bend the ends of the cotter pin around the shaft.
Remove the locking tool.
Things You Will Need
Screwdriver

10 mm wrench

Locking tool

Cotter pin