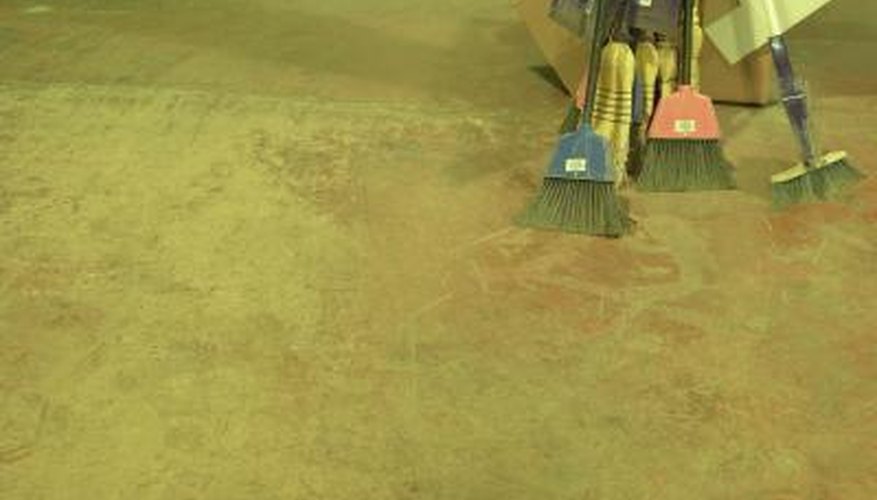 Concrete surfaces in or around homes and businesses provide an affordable and low-maintenance flooring option. However, concrete floors, particularly if the concrete is sealed or color hardened, can be extremely slippery when the surface becomes wet or icy. Concrete surfaces can be made slip resistant at the time that the concrete is installed using a broom to create small friction-lending ridges or at any later time by mixing a polymer grit additive into sealer or paint before applying the finish.
Step 1
Clean the floor thoroughly. Sweep the floor, then mop or scrub it. Remove any stains by scrubbing them with a solution that contains one part bleach to three parts water.
Step 2
Rinse the surface and let it dry.
Step 3
Repair any small cracks in the concrete using a concrete patching compound and putty knife. Let repairs dry for a few days before they are painted over.
Step 4
Etch the concrete surface, if it does not quickly absorb water sprinkled on it, so that the paint will hold better. Pour a small amount of the etching solution, mixed according to manufacturer's instructions, to a portion of the floor and spread it uniformly with a mop. Repeat this process until the entire floor has been covered. Let the floor dry.
Step 5
Vacuum up debris from the etched concrete.
Step 6
Prepare the paint. If only one coat will be applied, mix in the polymer grit additive according to manufacturer's instructions. If multiple coats will be used, simply stir the paint or primer so that it achieves a uniform consistency and apply the first coat. The primer, or bottom coat of paint, does not need to have the polymer grit added. Mix the polymer grit into the paint that will be used for the second coat.
Step 7
Paint the floor. Use a paintbrush to apply paint in corners and other areas that are difficult to reach with the roller. Paint the remainder of the floor using a paint roller.
Step 8
Let the paint dry. The floor can be walked on as soon as the paint dries, but avoid heavy activity or placing furniture or rugs on it for a few days.