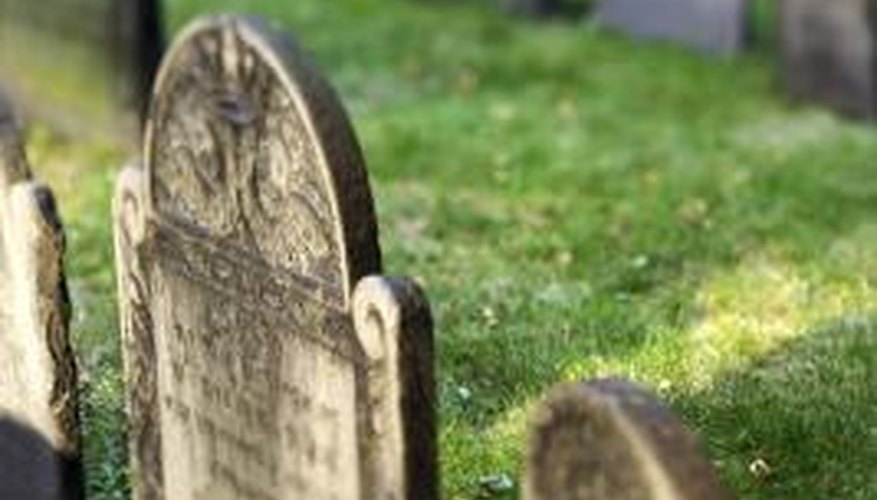 Limestone and sandstone are the softest forms of stone used for tombstones, rating a 3 to 4 on the Mohs hardness scale. Limestone is high in salt and will react poorly to many cleaning chemicals. Normal fungal growths appearing on the tombstone does not warrant cleaning. Limestone is porous and the fungi will embed into the stone. Scraping the fungus away can cause damage to the tombstone.
Step 1
Soak the tombstone with natural spring water. Sulfites from a well, or chemicals from tap water, can cause a reaction to the calcite in the limestone.
Step 2
Spray a non-ionic detergent onto the tombstone. A base liquid dish washing detergent should work, but read the label first. Non-ionic detergent has no ionic groups in its molecular makeup. This prevents the detergent from reacting poorly with hard water ions.
Step 3
Sweep the tombstone with a natural or nylon soft-bristled brush. Use a mild amount of pressure while cleaning. Do not try to remove stains from the tombstone.
Step 4
Brush detailed areas with a soft-bristled toothbrush.
Step 5
Soak the tombstone several times with water to remove the detergent.
Step 6
Repeat the process, if necessary. It is better to lightly clean the tombstone several times, than to give a hard cleaning once.