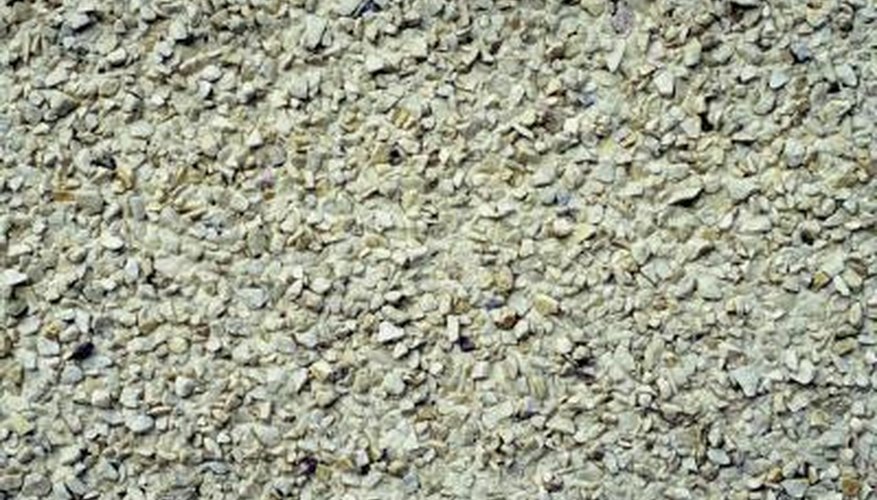 DGA (dense-grade aggregate) gravel, made from crushed limestone and dolomite, is often used as surfacing for driveways and roads. Installing DGA is simple, especially if you have a dump truck, which will save you the back-breaking work of shoveling heavy rock from the bed of a truck or carting it around in a wheelbarrow. Although you can install DGA gravel on your own, it will be a lot easier if you recruit a few friends to help.
Step 1
Estimate  the amount of DGA you need in cubic yards. First, measure the length and width of the area you are covering, then multiply the measurements together to get the square footage. Multiply the square footage by the thickness of gravel you want (in feet). Divide this number by 27 -- there are 27 cubic feet in a cubic yard. For example, if you want to cover a 10-by-10-foot area with 3 inches of DGA.
10 x 10 x .25 (because 3 inches is ¼-foot) = 25 cubic feet 25 / 27 = .93 cubic yards.
Step 2
Order the DGA and have it delivered in a dump truck. Have the truck dump the rocks in the middle of the area you are covering. If you are covering a large area, divide it into smaller areas and have the truck make several dumps. Stay several feet away from the trunk while it dumps the rocks.
Step 3
Spread the rocks to evenly cover the area using a flat-edged shovel. Wear a dust mask and eye protection to protect yourself from rock dust. If you are covering the gravel with tar, you need to make it roughly level; use a large level in several spots around the area to check this. If you are using the DGA on a driveway without tar you don't have to be as careful, since it will even itself out with use over time.