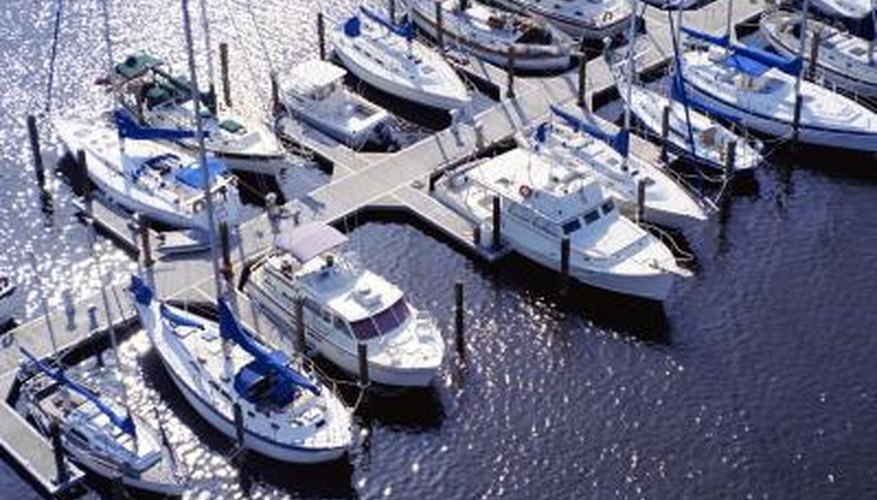 At first, a concrete dock sounds about as practical as a paper car -- after all, if you put cement into water, it will sink down to the bottom before you have time to turn around. However, concrete is much more durable than wood, and if you place concrete around a light material such as polystyrene, flotation becomes possible. By connecting modular pieces of concrete, you can build a dock that will corrode much more slowly than its wooden counterparts.
Step 1
Purchase concrete forms with polystyrene cores in two different sizes: the larger squares for the top and bottom of each float (no larger than 3 feet square) and the narrower rectangles that will run along the sides. There are specialty construction manufacturers who make these cores, and you can order them to be pre-drilled for your through rods.
Step 2
Run your through rods between each set of holes and secure with a washer and nut. Attach metal brackets at the appropriate corners or sides of your floats to secure the pieces to your pilings. Drill into the concrete, using a concrete bit, to make the holes for the bracket hardware.
Step 3
Connect your longer wooden beams to the floats. Your beams serve as the general frame of the dock, running along all sides, while your concrete floats are the pieces. You'll need a beam at every junction point between two concrete floats. You can drill through the wood into the concrete using the drill with the cement bit to create points of attachment.
Step 4
Attach the walers to the bottom of the concrete floats. Walers are also available from specialty construction retailers and will come with hardware ready for attachment. Use your drill to make holes in the cement and then attach the walers using the provided bolts and nuts.