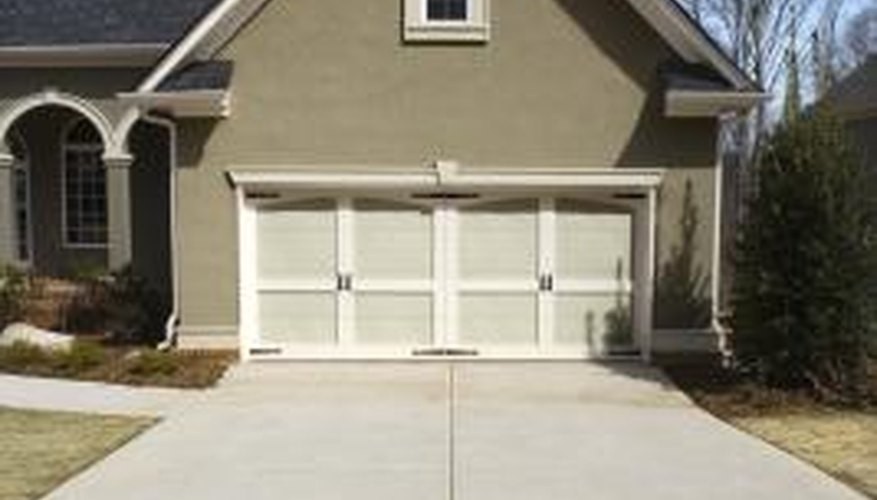 Thinkstock Images/Comstock/Getty Images
Tying a driveway slab to a concrete garage floor stabilizes the driveway and prevents it from separating from the garage. The process entails installing horizontal joints to hold the abutting sides of the driveway and garage together. Plan to install an expansion joint between the two pavements to allow the slabs to expand and contract when the ground freezes.
Step 1
Measure the depth of the expanse from the gravel foundation to the surface of the concrete garage, where the driveway slab will meet. Mark the half-way point on the abutting side of the garage, and snap a chalk line across it.
Step 2
Drill holes 1/2 inch in diameter ever 12 inches along the chalk line with a concrete drill. The holes should be half as deep as your steel tie bars, between 12 and 20 inches.
Step 3
Position rebar chairs over the foundation where you intend to lay the rebar. Call your municipality for updated codes on rebar spacing. Set a rebar chair about 6 inches from each hole drilled in the garage so the ends of the tie bars will sit on a chair for reinforcement.
Step 4
Insert steel bars or connectors into the drilled holes.
Step 5
Measure the width of the site and cut a 1/4-inch thick cork, foam or pressure-treated wood expansion joint to fit the width and height of the site with a utility knife. Mark the spots where the tie bars will run through and cut slits in the expansion joint from the bottom to the midpoint.
Step 6
Press the expansion joint against the open side of the garage floor so the tie bars poke through and sit on the rebar chairs.
Step 7
Pour the concrete into the prepared frame and over the steel tie bars. Level off the surface by working a long wood board back and forth over the tops. Scrape off any concrete from the top of the expansion joint with a trowel, and push a squeegee over the entire surface to smooth it out. Wait at least a week for the slab to cure before sealing it.
Step 8
Brush expansion joint sealant over the expansion joint between the driveway and garage to prevent water from seeping through.
Things You Will Need
Measuring tape

Chalk line

Concrete drill

Rebar chairs

Steel tie bars

Expansion joint

Utility knife

Concrete

Wood board

Trowel

Squeegee

Expansion joint sealant

Roller brush