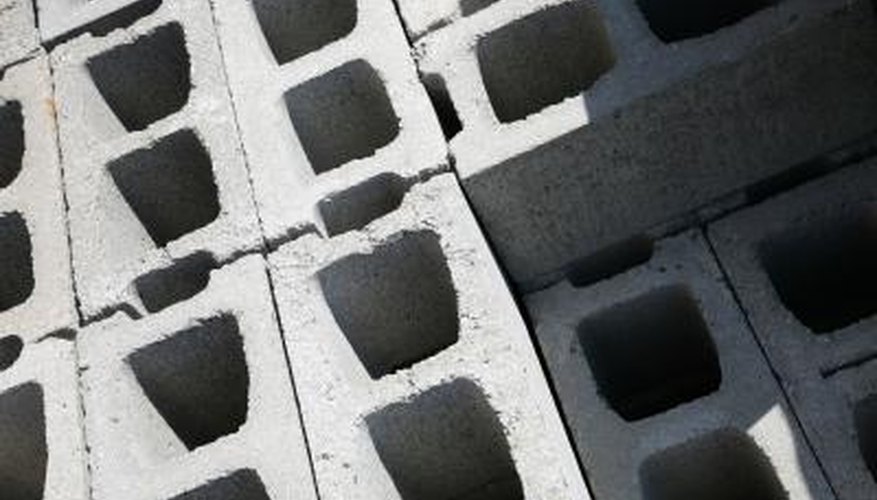 A concrete block planter box provides a practical alternative to digging a flower or vegetable garden. Incorporated into the landscape design and built next to a patio or walk, it becomes an accessible garden for a mobility impaired gardener. Concrete blocks are available in a multitude of sizes, shapes and colors, so you can select a basic rectangular block or a split face decorative block according to your taste and budget.
Step 1
Measure the location for the planter. Adjust as necessary to accommodate the size of the blocks. A standard concrete block is 8 by 8 by 16 inches.
Step 2
Dig a trench for the footing around the perimeter of the flower bed, 6 inches deep and 10 inches wide.
Step 3
Tamp the soil firmly in the trench, then add 4 inches of crushed gravel. Sprinkle with water and tamp firmly. Add another 2 inches of gravel and tamp again.
Step 4
Lay the first row of concrete blocks on the gravel with the open cavities up. Butt the ends together tightly. At the corner, simply set the block at a 90-degree angle and continue to the next corner.
Step 5
Lay a level on top of the blocks to ensure they are perfectly even. If necessary, add or remove a little gravel or sand to raise or lower the height of the blocks.
Step 6
Brush the tops of the concrete blocks to remove any dirt or dust. Run a bead of construction glue along the top edge.
Step 7
Lay the second row of blocks on top of the first, overlapping by one cavity so the blocks alternate.
Step 8
Pound a piece of rebar through the cavities and into the ground on the inside corner of alternate blocks. Add gravel to fill the cavities 2/3 full. This helps stabilize the planter wall.
Step 9
Roll weed cloth over the planter bed, pressing it into the corners and completely covering the soil inside the planter. Allow it to extend up the interior walls of the planter. Trim any excess with scissors.
Step 10
Fill the planter and the concrete block cavities with equal parts compost and potting soil. Plant your flowers or vegetables and water thoroughly. Plant herbs or creeping thyme in the concrete block cavities.