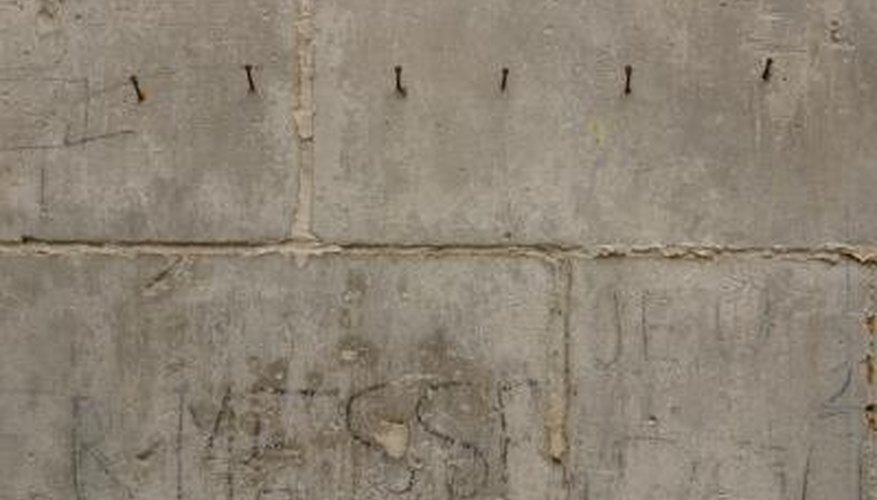 Molly bolts, also called sleeve anchors, are expansion anchors, which work by digging a grooved sleeve permanently into surrounding material. Installing these concrete anchors is a fairly simple process, but requires specialized tools, such as a hammer drill and a carbide-tipped bit. Do not attempt to drill into concrete with a standard power drill and bit. Because concrete is so hard and dense, it requires the extra pounding force of a hammer drill to make any progress. And because drilling into concrete is dusty work, it is a good idea to wear protective goggles and a mask.
Step 1
Insert a masonry drill bit, the exact width of the molly bolt, into the hammer drill. For instance, a 1/4-inch molly bolt requires a 1/4-inch drill bit.
Step 2
Drill a hole into the desired location in the concrete, 1/4 inch deeper than the length of the molly bolt. For optimum strength, the head of the molly bolt must be flush with the concrete surface. Once you have drilled to the desired depth, back out and reinsert the drill bit into the hole repeatedly to clear excess concrete dust. You may need to blow air into the hole to clear it completely.
Step 3
Insert the molly bolt into the pre-drilled hole in the concrete. It should slide in fairly easily, but may need to be tapped gently with a hammer to insert it fully. Be sure that the nut is already threaded on the molly bolt before it is anchored, in case the threads are damaged by the hammer.
Step 4
Tighten the molly bolt nut with a wrench to expand the anchor permanently into the concrete.