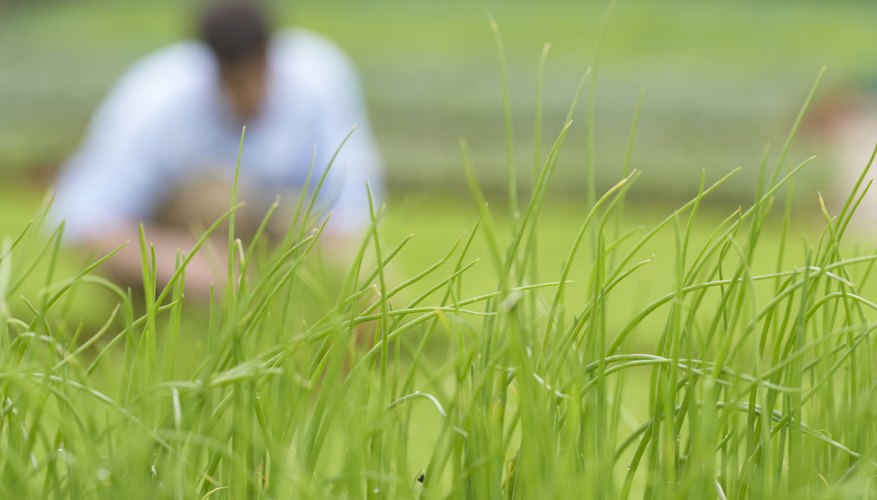 The Toro mower brand line is manufactured by the Toro company and features Briggs & Stratton engines. Your Toro lawn mower can fail for any number of reasons, but a common culprit is the carburetor and issues related to the carburetor, including the flow of air through the needle valve and the fuel tank cap's vent hole. Carburetor problems can cause general engine malfunctioning and "sputtering" when attempting to use the machine.
Park and turn off your Toro lawn mower. Open the mower's engine cover.
Find the carburetor on the middle of the right side of the Toro's Briggs & Stratton engine. The carburetor will feature a small bowl-like shape. Locate the air adjustment needle valve on the bottom of the carburetor.
Twist the needle valve all the way to the right, and then turn it back a couple of turns to the left. The needle valve controls the amount of air that enters the carburetor. Too little or too much air entering the Toro lawn mower's carburetor will cause the engine to fail to run or more likely to sputter when attempting to run normally.
Tweak the carburetor's needle valve further if the engine continues to sputter. Attempt to run the Toro mower after your adjustments again and check the results.
Remove the Toro lawn mower's fuel tank cap if engine sputtering continues. Unscrew the tank cap. There is a small vent hole on the cap that also controls the flow of air into the gas tank and ultimately the flow of air into the carburetor, so continued sputtering problems may be the result of a clogged vent hole.
Use a small pipe cleaner and insert it through the vent hole to work out any build up. Ensure you clear out the hole so that you can see and blow through it, and then screw it back onto the Toro lawn mower.
Remove the bowl on the bottom of the Toro lawn mower's carburetor if the engine is still running rough. Place a pan underneath the bottom of the bowl and then use a socket wrench to loosen the bowl's nut. Allow any gas to drain out into the pan.
Remove the Toro lawn mower carburetor bowl's nut entirely once all the gas has finished draining. Clean out the bowl with a cloth.
Soak the carburetor's removed nut in carburetor cleaner. Clean the nut within this solution further using a wire brush.
Place the bowl back into place on the Toro lawn mower and reinsert the nut using your socket wrench.