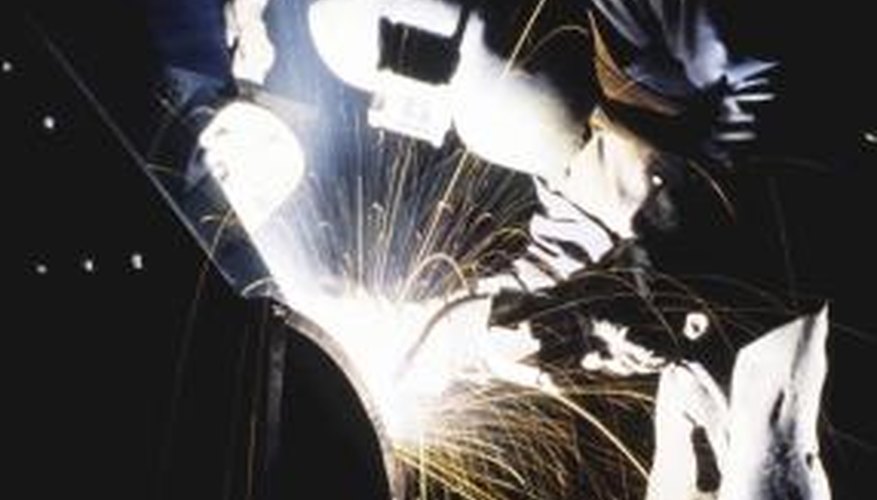 The differences between cast iron and mild steel are slight but important when it comes to welding the two together.The two metals contain different amounts of carbon but weld similarly. However, cast iron is slightly softer than mild steel. This means you will have to adjust your welding technique slightly so you do not damage the cast iron, and so you weld the mild steel enough for it to hold in place.
Step 1
Clamp the two work pieces together in the position in which they are to be welded. Attach the ground clamp from the MIG welder to either of the pieces of metal.
Step 2
Set the MIG welder's power level and wire feed speed to the thickness of the material. This information is usually printed on the inside panel of the welder where the welding wire spool is located. It may also be included in the welder's owner's manual.
Step 3
Turn on the welder and lower your helmet. Hold the electrode from the welding gun approximately a 1/4 inch from the point that you will be welding.
Step 4
Pull the welding gun's trigger and touch the moving electrode to the mild steel first. You will see a pool of molten metal form where the electrode touches the steel. As soon as this weld pool has attained an approximate width of a 1/4 inch, begin moving the gun back and forth in a tiny stitching motion between the cast iron and the mild steel. You will notice that the weld pool will form much more quickly on the cast iron than it did on the steel.
Step 5
Stitch the weld together by continuing to pull the welding gun's trigger and manipulating the course of the weld pool back and forth from the steel to the cast iron until the weld has been completed.
Step 6
Clean the excess weld slag from the completed weld with a wire brush to complete the welding operation.
Things You Will Need
Welding clamps

MIG welder

Welding helmet

Wire brush
Tip
If you are unfamiliar with welding, wear welding gloves and a long-sleeved shirt. While the welding sparks won't actually harm you, they are uncomfortable.
Warning
Always wear a welding helmet when welding. The intense light put off by the weld electrode can quickly damage or even blind unprotected eyes.