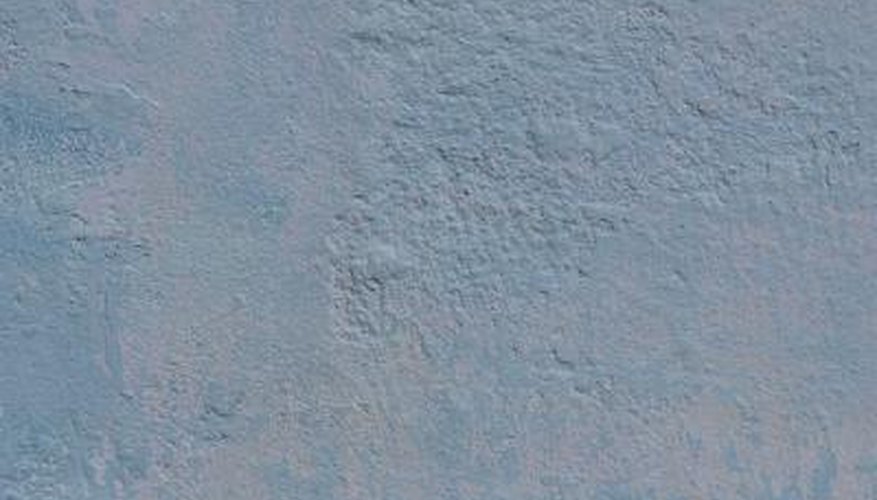 Spalling -- or chipping, peeling and flaking -- deteriorates a foundation. Exposed, untreated concrete is susceptible to moisture penetration, which causes further damage. Poor concrete mix, excessive moisture, repeated freezing and thawing and chemical contamination are common causes of a deteriorated foundation. Left unrepaired, spalling can lead to severe structural damage. It is essential to properly correct deteriorating concrete in order to maintain and restore structural integrity. Invest some time instead of money by completing the repairs yourself.
Step 1
Chip away the deteriorated foundation with a chipping hammer until sound concrete is visible. Sound concrete consists of a smooth surface not easily chipped away.
Step 2
Cut away extremely deteriorated concrete with a concrete saw until the interior reinforcement or metal bars are visible. Square or rectangular cuts are easier to repair than irregular shapes.
Step 3
Prepare a proper bonding surface by abrasive blasting or pressure washing the surface. Blasting with a minimum of 3,000 psi removes any loose concrete, dust or contaminants. Vacuum any remaining particles.
Step 4
Inspect the exposed reinforcements for rust or corrosion. Clean any surface defects with an abrasive blasting wire wheel.
Step 5
Mix the concrete mortar with any additional additives. Additives are commonly used to color the mortar, reduce shrinkage or improve handling.
Step 6
Prepare the foundation surface according to the mortar manufacturer's directions. Bonding agents may be required to bond the existing concrete surface to the concrete mortar.
Step 7
Apply the mortar mix with a trowel. Pack the mortar firmly and completely over the entire repaired surface.
Step 8
Apply a concrete sealer to resist further surface damage.