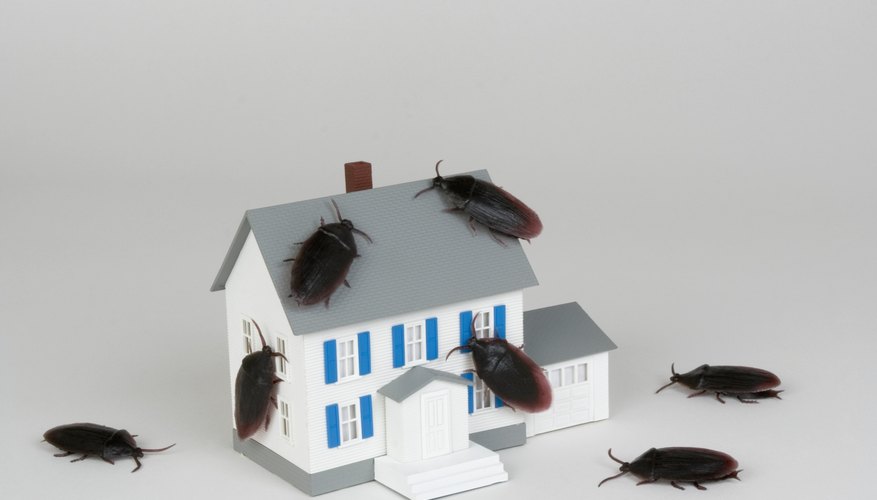 Borax, or boric acid, is a common household material that has been used in effective commercially-produced roach-killing dusts and powders for a long time. Unlike other pesticides, borax works by dehydrating the insects and has a low level of toxicity to people and pets. When you mix this killer with stuff that roaches like, you get a strong attractant that kills them. You can make your own baited borax roach traps on the cheap, in just a few minutes using common household ingredients and supplies.
Sift 4 tablespoons of borax, 3 tablespoons all-purpose flour, 2 tablespoons dry milk and 1 tablespoon confectioner's sugar together in a medium mixing bowl to make irresistible, but deadly roach bait. Whisk the bait well to combine the ingredients thoroughly.
Sift and whisk the bait two more times and set it aside.
Remove the lid from an empty plastic 1-liter soda bottle. Cut the top of the bottle off right above the shoulder with a hobby knife. Set the top aside and discard the lid.
Dump a couple of tablespoons of the roach bait into the bottom of the trap. Add a little scrap of bread or a couple pieces of dog kibble to sweeten the prize.
Smear the inside rim of the bottom of the bottle with a generous one-inch band of petroleum jelly. This will prevent roaches from climbing out of the trap. Don't get any of the jelly on the outer surface of the trap.
Flip the top of the plastic bottle upside down like a funnel and drop it into the bottom section of the bottle. Snug it into place.
Use masking tape to secure the two plastic pieces of the trap together. Run four or five strips of masking tape from the top of the trap to the bottom to give roaches a very easy surface to travel on.
Place the roach trap wherever you have noticed roach activity. Monitor your catch every day. Close the trap up in a sealable food storage bag and toss it in the trash when the sight of it repulses you to the point of disposal.