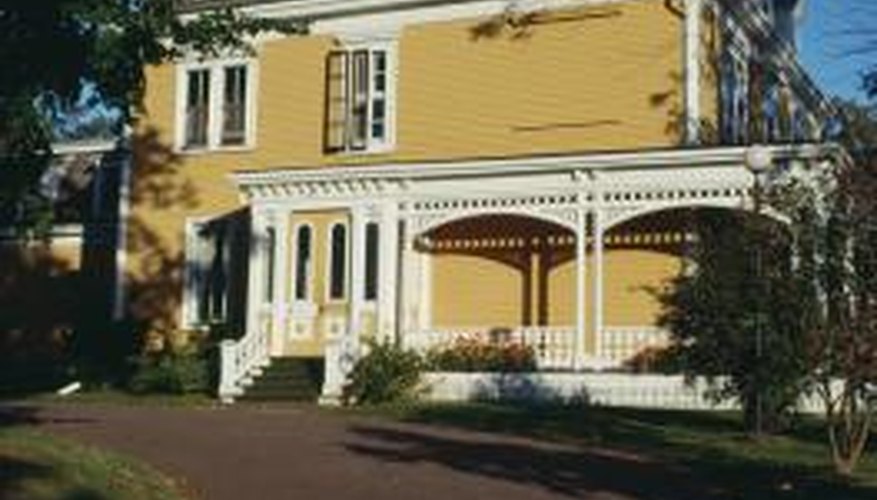 Well-laid asphalt driveways can last 20 to 30 years with little maintenance. To cover up asphalt, the surface must be in good condition. Existing cracks and other damage will only spread and affect the stability of the new pavement if not repaired. Paving over asphalt is a project new and experienced do-it-yourselfers alike can finish over a weekend.
Step 1
Power wash the asphalt driveway to remove dirt, leaves and other debris. Use grease or oil stain remover and a scrub brush to clean any stains that will otherwise eat away at the asphalt. Rinse off all solutions and let the asphalt dry completely.
Step 2
Lay landscape filter fabric over the surface, overlapping ends by 3 inches. Pin down the corners with lawn spikes. The fabric will help prevent bedding sand from falling into any cracks that develop in the asphalt over time.
Step 3
Install edging restraints around the perimeter of the driveway to keep the paving materials from moving. Use fieldstones, timbers, metal or another material strong enough to resist the daily stress driveways are exposed to. Hammer 12-inch spikes through the strips of edging to keep them down.
Step 4
Pour coarse sand over the filter fabric to make a 1-inch-thick bed. Pull a straightedge over the top to even out the sand.
Step 5
Set pavers, stones or another material on top of the sand with the sides flush together. Continue setting the pavement according to your pattern. Lay a board over each section and walk on it to compact the surface into the sand.
Step 6
Pack stone dust or fine sand between the pieces with a broom. Dampen the surface with a hose so the joint material will cling to the pavers, holding them in place like cement.